In the weeks to come, the doors of our K-12 schools will swing wide open as students stream in. With the unfurling of their classroom laptops, personal information will quietly and excessively stream out, right into the hands of Educational Technology vendors who sold their way into our schools promising free and engaging content.
From the first class bell to the last, every day, over 10 million data points can be collected on each student.
Google's "free' G Suite for Education is beastliest of them all, ravenous for keyword searches, log in times, location and behavioral data, and test scores. What looks like harmless clicks to us are delicious morsels they turn into dollars and cents by spinning browser histories and other algorithmic activity into "future customer" profiles.
It's been happening for years, right under the noses of teachers, administrators and federal watchdogs at the Department of Education.
While schools may ask for parental consent to use these EdTech apps, they offer no alternative, such as books and paper-based assignments. So declining a digitally delivered curriculum is like asking your child to drop out of school.
There are federal laws that protect student data. The one pertaining to K-12 public school children is called the Family Education Rights and Privacy Act, or FERPA. FERPA came about in 1974 to ensure that children's directory information wasn't misused for commercial or nefarious purposes. FERPA supposedly protects all the data EdTech scoops up, but good luck obtaining it through a FERPA access request.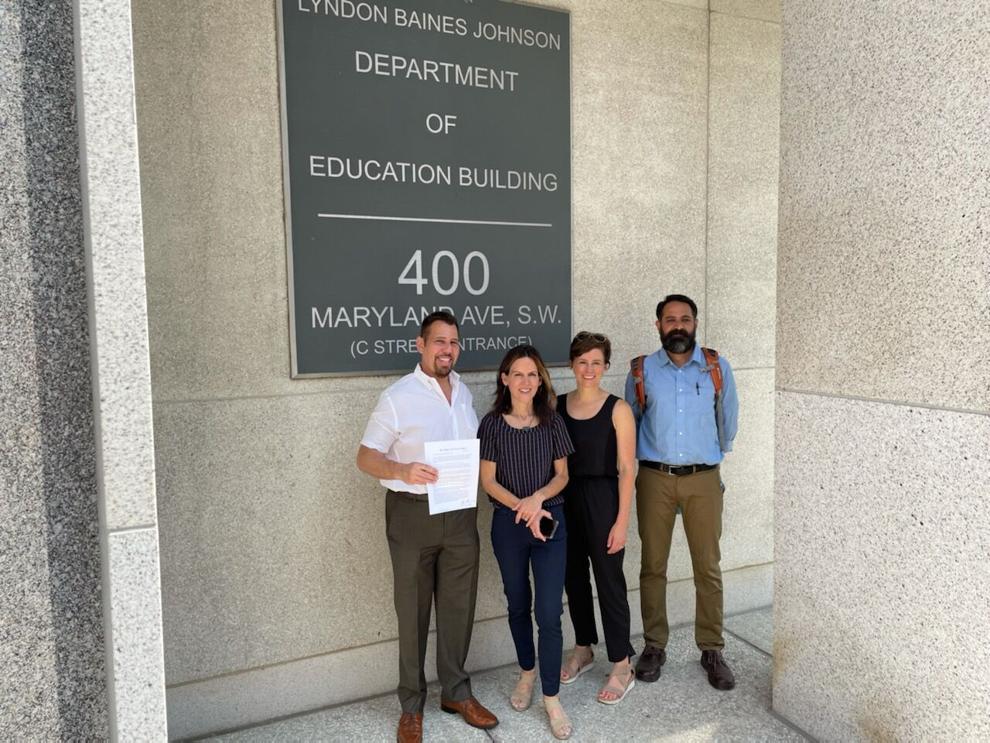 About six months ago, myself and three other parents tested the system. We called this test the Student Data Privacy Project. We requested data gathered on our children over the course of the school year, and then asked over a dozen parents in ten states to do the same. Not one of us was able to obtain a dot of data.
In my case, the chief technology officer referred me to the EdTech vendor; the vendor referred me back to the school — like dogs chasing their tails or politicians passing the buck.
Since all the parents involved in the project received various shades of "no dice," we filed a group complaint — perhaps the largest of its kind — with the U.S. Department of Education on July 9, 2021. That's us in front of the LBJ Building.
It's been a few weeks. We have indicators that they are investigating our claims. Case numbers have been assigned. With elected officials and news outlets following our project, we hope to pressure the Department of Education into closing this massive loophole.
As the new school year approaches, ask your school to opt out of EdTech. And ignore the umbrage of Privacy Policies schools your school may dispense to pacify an absolve; they are useless. Boiler plate language allows them to change the terms "at any time and without notice," and does not protect against third-party contractors whose software "kits" are built into platforms like Khan Academy, Nearpod, Canvas, SeeSaw, Prodigy and more — 400-1,000 more, depending on your school district's dependency on digital educational content.
Used to be that hallway lockers were the safest place to store our personal effects at school. Until the Department of Education can close this massive data leak, they still are.
Lisa Cline is child safety advocate in Montgomery County, Maryland, co-founder of the Student Data Privacy Project and co-chair of Fairplay (formerly Campaign for a Commercial-Free Childhood) Screens in Schools Action Network.