[See more photos from the state wrestling championships here!]
UPPER MARLBORO – Damascus High School wrestlers Elijah Baisden and Timothy Furgeson took similar paths to their 220- and 182-pound Class 2A-1A state championship victories on March 2 at The Show Place Arena.
A pair of returning state runners-up, Baisden (49-1) and Furgeson (45-0) registered pins in their first-round and quarterfinal bouts before earning semifinal decisions, each defeating their opponent by six points and dramatically scoring the decisive points in the third period of their title bout.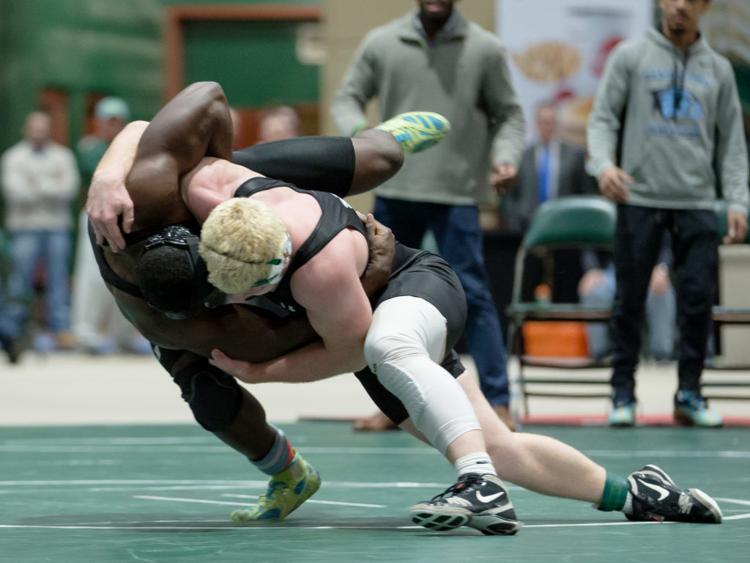 By the end of the day, Baisden, Furgeson joined Poolesville High School senior Alex Carbonell (120) were the lone 2A/1A state champions from Montgomery County.
Baisden was deadlocked at 1-1 with seven seconds remaining in his bout with repeat finalist Ike Kalu (34-2) of Western Tech when he lateral-dropped the senior to his back for a 5-1 victory. Kalu was making his fourth failed attempt at a bear-hug against Baisden, who adroitly countered the muscular wrestler, launching him airborne and down onto the mat.
"Your hip-checks along with your hands are your last line of defense, and I've been working on my neutral game all season, so I wasn't worried or concerned about him being able to throw me," said Baisden of Kalu, behind whom he was ranked No. 2 all-season in the Class 2A/1A state rankings for Maryland.
"There were something like five seconds left in the match when he went for that double, which I anticipated. I was able to under-hook him (to) get that final takedown. It wasn't a setup as much as something I felt right at the moment, and it was an amazing finish, so this feels great," the Damascus star added.
Two bouts later, Furgeson broke a scoreless tie against Owings Mills senior Dondre Space (40-5), executing a "tilt" at the edge of the mat for the decisive set of near-fall points and a 2-0 triumph.
"It was my goal to pin him, but after a scoreless first period, I couldn't out from the bottom in the second period for some reason," said Furgeson, whose father and coach, John, declared "I'm proud of you, son," as his son was being interviewed.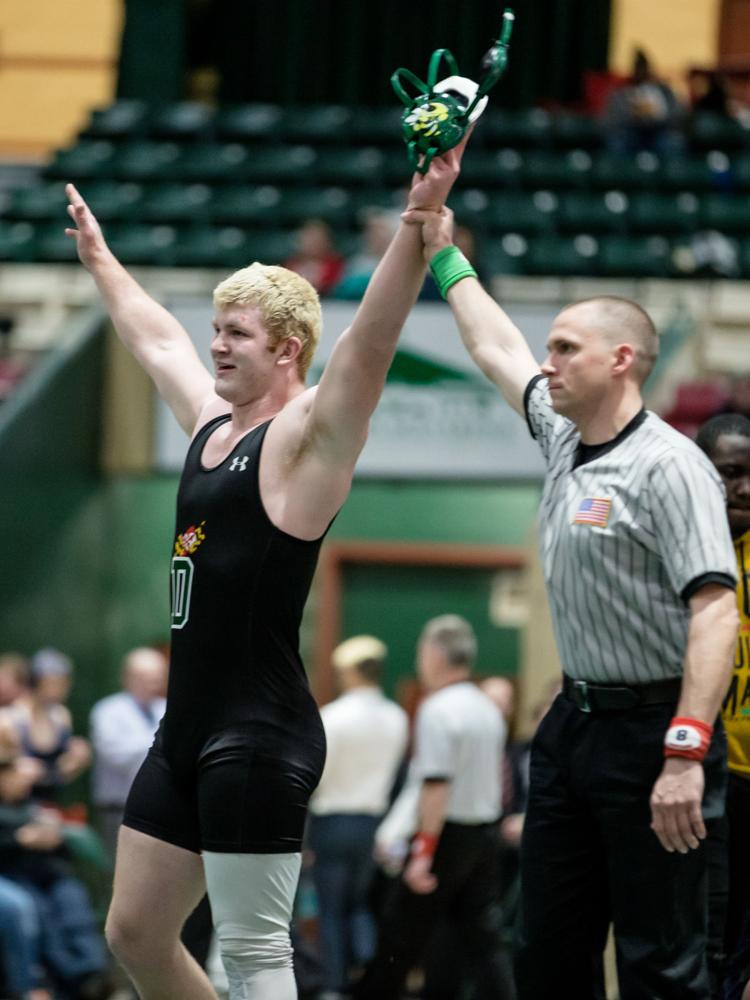 "I didn't want to have come here, lose, and then, have to wait an entire year again to get back here, so it was nice to get those two backers on the edge of the mat. My top position is one of greatest attributes, and that's what saved me today. My goal was to finish the year undefeated, and I've accomplished that," he added.
In last year's finals, Furgeson and Baisden were runners-up at 160 and 285 pounds. Furgeson fell, 4-2, to North Caroline's Tyler Baer, and Baisden, 11-5, to repeat Dunbar's Jordan Pryor — a senior who pinned Aaron Smith of Oakland Mills for his third straight crown.
"I've got to give it to Elijah Baisden. When the preseason rankings came out and (Kalu) was ranked ahead of him, I took a picture of them and sent a screenshot to him for motivation," said Furgeson.
"I kind of wanted him to win as much as I did myself, and it was tough having to wrestle after him. He was already a state champ, and I still had to wrestle. But now that we're both state champs, our names are on the wall together, which is awesome."
Furgeson and Baisden, the lone senior for Damascus, led the Swarmin' Hornets to their their eighth consecutive and 16th overall county championship. Finishing third at states were Hornets' sophomore  Michael Emerick (126) and junior Aiden Beall (195), with Emerick achieving that after having finished second as a 106-pound freshman.
Baisden was third at counties and fifth at regions as a 182-pound freshman, third and second as a 195-pound sophomore, and first in both last season – achievements contributing to his being named recipient of the prestigious Richard J. Monisera Award for the senior who has scored the most points for his school in the county tournament.
Ferguson won his third straight county tournament crown after being second and first at regions as a freshman and sophomore, and repeated his record as a regional champion a week prior to states.
Baisden and Furgeson were also two weeks removed from defeating Howard County's Glenelg for the Class 2A state dual-meet championship – their 178th consecutive win and their seventh straight state duals crown, following a back-to-back 25-0 season under coach John Ferguson.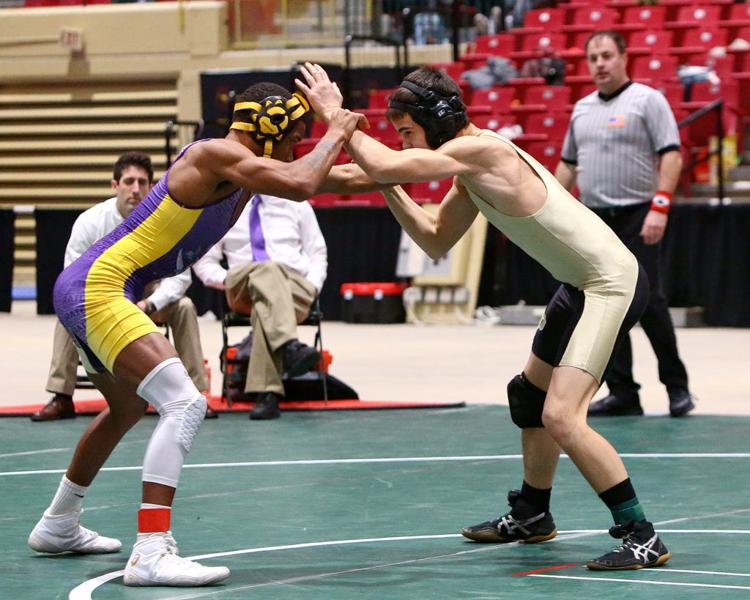 "We weren't going to be the team to lose the streak," said Baisden, whose lone setback was an overtime loss to Delaware's state runner-up. "I was ranked behind Kalu all season, and I felt like I wasn't getting the respect that I deserved all season. I took that personal, so this leaves that final statement as to who the best is."
Meanwhile, Poolesvill's Carbonell (47-3) took a more-meticulous route to the finals, winning, 10-0, 5-3 and 3-0, before taking his title bout over Loch Raven senior Marquis Kemp (43-3).
"I wasn't confident that I could ride him out, but I gave it my all and was successful," said Carbonell, whose record of 172 career victories ties the county milestone established by Damascus' Mikey Macklin. "This is my fourth time here at the state tournament, so it's great to have finally accomplished this."
Kemp scored a 4-2 quarterfinal that upset Smithsburg's third-place finishing senior Shane Hovermale (43-4), who defeated Carbonell, 1-0, in the previous weekend's Class 2A/1A West Region final. Carbonell, in turn, won his quarterfinal, 5-3, over Dunbar's sophomore Camerin Deville, who beat Kemp, 1-0, in the previous weekend's Class 2A/1A North Region final.
Carbonell dedicated his championship to his former coach Kevin Dorsey, who was diagnosed with amyotrophic lateral sclerosis (ALS) during the summer of 2014. The wheelchair-bound Dorsey, wearing a suit and tie, watched alongside Falcons' Head Coach Tim Tao as Carbonell accomplished his feat.
"This season was all about Mr. Dorsey," said Carbonell, who has won a pair of county titles and twice finished third at states."When Coach Dorsey retired last year, we wanted to give him his first state champion because he had never had one, I had that in my mind all season long, and this is worth it."
Carbonell's teammates, junior Xavier Kresslein (170) and freshman Kevin Fultz (132), finished third and fifth respectively at the state finals.