[See more photos from this game in our gallery.]
GAITHERSBURG – Chris Kouemi has been an unsung hero for the Gaithersburg High School boys' varsity basketball team this season.
Kouemi, a 6-foot-3 junior, has stepped up to play a major role in the Trojans' quest to get back to Xfinity Center for another chance at a state championship. The versatile star shined again as he scored a season-high 19 points to lead the Trojans to a 60-46 home victory over Churchill on Feb. 14.
"We really needed it, because we lost against Magruder, which was a bad game but we won yesterday against Springbrook, so today was a very big game for us,"said Kouemi, who finished with 17 points in Gaithersburg's two previous contests,
Gaithersburg jumped out to a 29-27 halftime advantage against Churchill and extended their lead throughout the third quarter.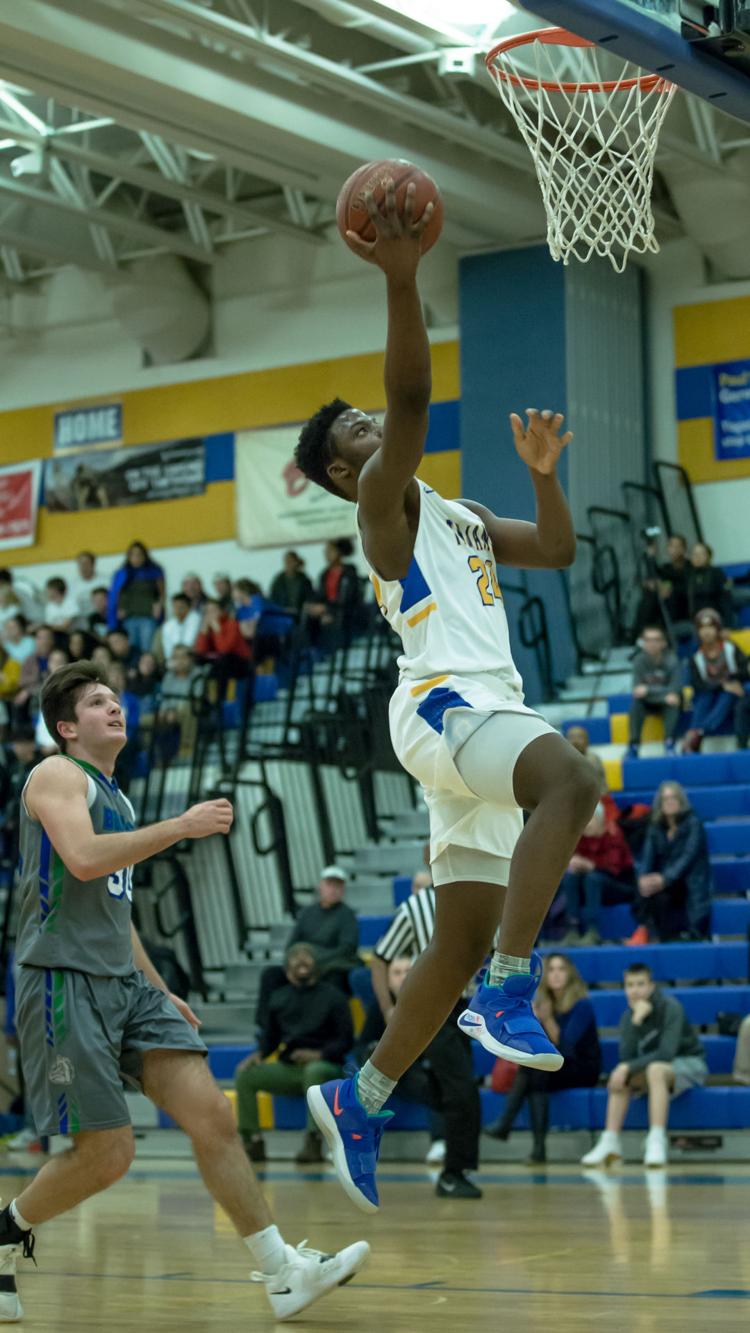 Sophomore Jao Ituka netted a pair of free throws; moments later, Ituka finished with 17 points, while classmate Jordan Hawkins added 12 points for the Trojans, who are peaking at the right time.
"I'm just happy that I'm able to play with guys like this," said Ituka. "Guys who want to win, guys who are passionate about the game, and guys who are going to help us get to where we want to get to, which is Xfinity."
Meanwhile, Churchill's Jomo Goings scored a team-high 16 points to lead the Bulldogs, and TJ Richardson added nine points.
Michael Janis, John Mbeng and Ethan Rindner each scored six points for Churchill in the loss.
Kouemi showed his ability to perform on the offensive boards throughout the game; the dynamic junior scored on a putback, with 5:28 remaining in the third quarter, and rebounded Ituka's missed shot to give the Trojans a 42-31 advantage with 3:54 left.
"He was always a great defender for us," said Gaithersburg Head Coach Jeff Holda. "He kind of anchors down our defense, and he was always our best rebounder, but I think he's had a double-double in his last like five or six games."
After scoring nine points in the first half, Kouemi erupted for 10 points in the second half to lead the Trojans to victory.
"He's been playing great so far," said Ituka. "He's just doing big things for us. He's coming out here; he's dominating the boards. He's giving us that passion, that good look that we need."
The junior has also played a vital role in Gaithersburg's wins this season over Montgomery County opponents such as Clarksburg, Sherwood and Poolesville and was instrumental in the Trojans' victory against Virginia rival Potomac.
The sky's the limit for Kouemi, and the Trojans are expecting him to continue leading the team throughout the postseason.
"He's playing with a lot of confidence," said Holda. "He's the kid that I knew that would kind of come and be that third guy and help us score when we needed points in these tough games, so we're really proud of him."
The Trojans, who improved to 17-3, will close out their regular season on Feb. 22 at Quince Orchard.