"Expect awesome; be awesome" is the motto of Flying V Theatre. Once a year, the theater pulls out all the stops, with their annual festival called "Awesome-A-Thon."
It features a dazzling array of diverse activities, including original performances and staged readings, stage combat, what Artistic Director Jason Schlafstein calls "adorably erotic superhero stories," an early-morning clown parade, live podcasts, live versions of Saturday morning cartoons, a game lounge and a silent auction – and that's not an inclusive list.
This year marks the third iteration of Awesome-A-Thon. What was normally a one-day event has now been expanded to two, over a 24-hour period.
Exploring relationships is also part of the program. On Sunday at 7 p.m., Flying V company member Michelle Polera tests out material from the one-woman show she's creating with fellow company member Patrick Flynn.
"What She Said" tackles the fact that "dating is hard, but even harder when you're coming back to (the) city you used to live in," Flynn explained.
The two co-creators hope to bring the complete version to Page to Stage, the annual New Play Festival at the Kennedy Center over Labor Day Weekend.
Flynn is also hosting a live podcast entitled "The Original Cast: Musicals Based on Comics," such as "Annie," or "You're a Good Man, Charlie Brown."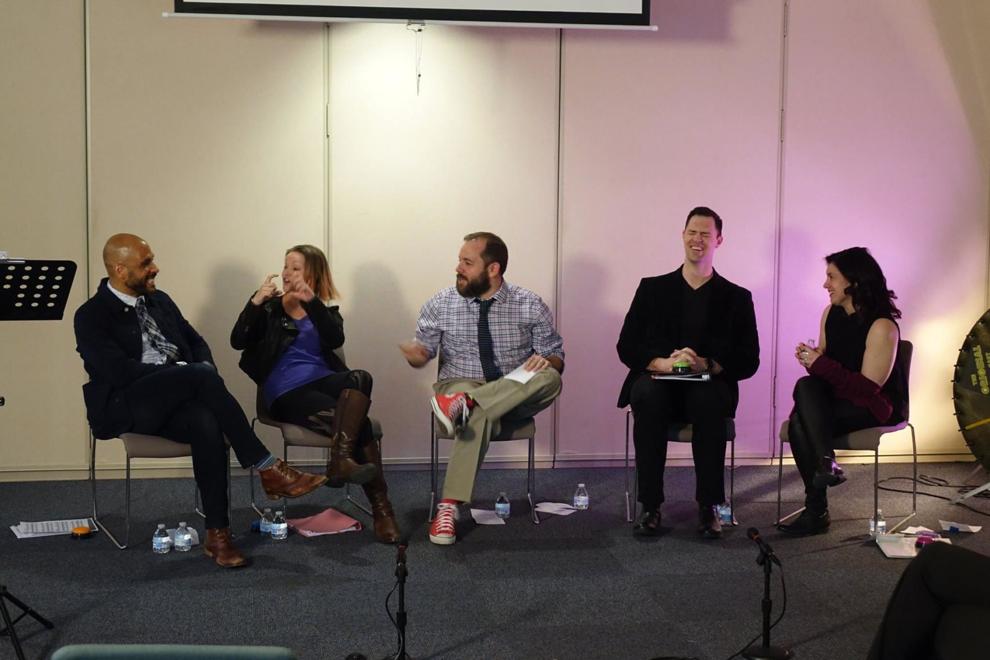 "People think I have a lot of knowledge," he said. "But you should see the people on the program."
Awesome-A-Thon is a fundraiser for Flying V, said Lee Liebeskind, one of the event's producers and associate artistic director of the theater.
"It's inspired by events like dance-a-thons and marathons on the radio along with conventions like the Small Press Expo (for cartoonists)," he added. "We created a 24-hour marathon of programming people can experience – that Flying V is both already producing and is interested in. We want to share interests with the community and raise a bit of money to continue creating the awesome programming we do."
Liebeskind collaborates with Schlafstein to choose Awesome-A-Thon programming, coordinate with project managers and oversee the team running the event.
This year's Awesome-A-Thon will introduce new features, including a coffeehouse with late-night performances by company member and comedian Farrell Parker, singer/songwriter/magician Zia Hassan and Rustic Riot and The Big Gold Belt Podcast on professional wrestling will be recording a live session at Awesome-A-Thon interviewing indie wrestlers.
"We close the night with our first live reading of a movie script — 'Batman Forever,'" said Liebeskind, referring to the 1995 classic Joel Schumacher film.
How has community response been so far to the event?
"During the past two years that we've presented Awesome-A-Thon," said Liebeskind, "the feedback has been incredible.  People would come around for one event their friends were in, and would end up staying the whole day.  People would be interested in watching one thing, and just from the energy and joy of everyone involved, would end up staying an extra two hours to play games in the game room.  Awesome-A-Thon is an event unlike anything that happens in D.C.  I hope to see as many people as possible during the event and get to know everyone who comes to it."
Founded in 2011, Flying V "produces theater for people who don't think they like theater," said its artistic director. "Our original, offbeat contemporary plays and performance art are inspired by genre fiction, comic books and other modern mythologies."
All events are pay-what-you-will, but donations are "gladly accepted," said Schlafstein.
Awesome-A-Thon will take place from 10 p.m. on Saturday, April 13 to 10 p.m. on Sunday, April 14, at Bethesda-Chevy Chase Regional Services Center, 4805 Edgemoor Lane, 2nd floor, in Bethesda.
Visit www.flyingvtheatre.com.