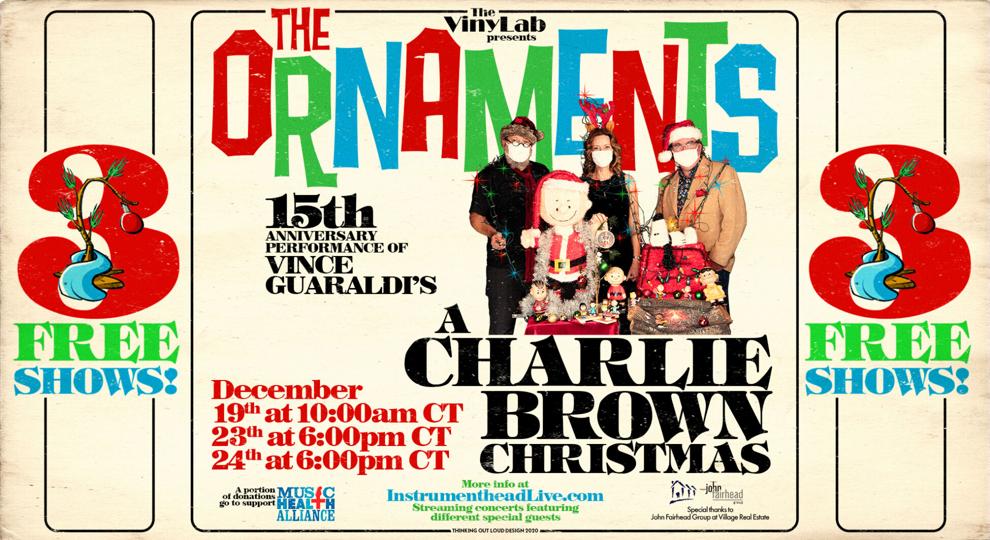 The Ornaments started in 2005 as a local combo who wanted to play for friends and family the music of the greatest holiday special ever produced – Charles Schultz's A Charlie Brown Christmas with its brilliant soundtrack by Vince Guaraldi. Since then, their shows have grown into a Nashville holiday tradition that still stirs up that childhood feeling of sitting in front of the television with your loved ones on a cold December night while watching Snoopy and the gang. Led by pianist Jen Gunderman and accompanied by bassist James Haggerty and drummer Martin Lynds, The Ornaments play the classic Guaraldi record live from beginning to end while hosting a rotating cast of guest soloists who may bring along a trombone, pedal steel, harmonica, tin whistle, electric guitar, fiddle, saxophone, flute, musical saw or even an accordion. It all depends which show you catch.
This year the Ornaments are excited to celebrate their 15th anniversary presentation of Vince Guaraldi's A Charlie Brown Christmas with three live streaming events hosted by photographer Michael Weintrob's InstrumentheadLive.com.
Weintrob shares, "This new Instrumenthead Live series is an opportunity to create a safe and fun environment for people to enjoy high quality audio and video in a unique gallery where the art is curated specifically for the artist performing. We are empowering live art by bringing an authentic high-quality live show atmosphere to the comfort and safety of music lovers' homes everywhere."
The Ornaments 2020 shows will air on Saturday, December 19th at 10AM CST, Wednesday, December 23rd at 6PM CST and Wednesday, December 24th at 6PM CST. All shows are family-friendly and free to viewers via www.instrumentheadlive.com, facebook.com/theornaments and theornamentsband.com. Donations will be accepted here with a portion of all donations will benefit the Music Health Alliance.
This year's performances are presented by Vinyl Lab with special thanks to the John Fairhead Group at Village Real Estate.
For more info, visit www.instrumentheadlive.com or www.theornamentsband.com