Theaters seek to reach out to underserved audiences. ArtStream, Inc., reaches out to potential actors and playwrights who might lack opportunities elsewhere.
Founded in 2005, the nonprofit organization teaches communication and social skills through participation in the performing arts for individuals with IDDA – intellectual and developmental disabilities and autism – said Executive Director Heller An Shapiro.
ArtStream's "flagship" activities are its six Inclusive Theatre Companies in the area, with two companies performing at a time.  Two of these are in the county, located in Silver Spring and Gaithersburg.
ArtStreamers, as ArtStream performers are called, are assisted by professional theater mentors, who appear on stage with them. "We've recently added a cabaret company, with performers who appear individually or in small groups, at AMP by Strathmore," Shapiro said.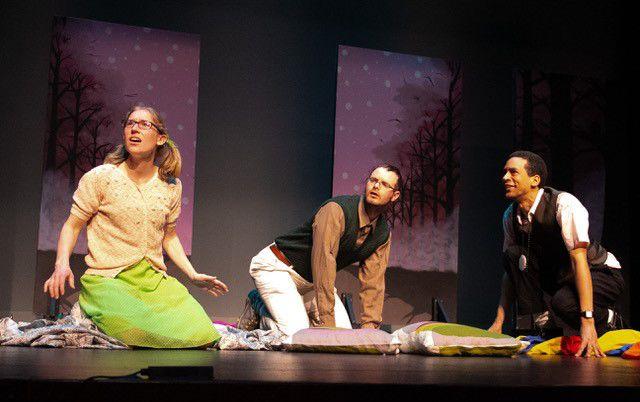 Five women, all in the arts, established ArtStream because of a specific need.  Students 18 and up at Imagination Stage were "aging out" of the youth theater organization and "had no place to go," she said.
ArtStream isn't just about theater, said Shapiro. "It improves social skills and potential job skills." ArtStreamers, who may range in age from upper teens to older adults, may be living at home, in group homes or on their own, and many of them work.
Auditions for ArtStream productions involve two-minute performances, which could include anything from lip-synching to dancing to magic tricks. "They're more about showing intent because anyone interested will get cast," said Shapiro.
Each Inclusive Theatre Company production features two one-act musicals. This season, the two performances are "Somewhere in Showtime" directed by Madeleine Barry and "The Magic Within," directed by Jake Young.
Young, one of ArtStream's theater professional mentors, holds a degree in theater performance and has directed for various theater companies around the metropolitan region. He heard about ArtStream while working in a theater summer camp during college, where he learned that the mother of a co-worker was a founder of the organization.
He offered to volunteer at ArtStream, which he said is "like no other theater company. There's a sense of positivity and support in the rehearsal room I had never felt before. ArtStream values everyone's voices."
The organization's process for developing shows involves the actors.
"Each director leads the cast in brainstorming ideas for what they want the show to be about," Young explained. "From that, they begin to improvise scenes and piece together what they'd like from each scene; then they grow a story out of all the collective ideas."
ArtStream is about empowering the actors, he added.
Shelley Belgard, 45, is an ArtStreamer who's appearing in "Somewhere in Showtime." A Texas native, she now makes her home in Rockville with her husband, Bill, who also performs with ArtStream. She's been a member of the nonprofit since its inception. Belgard has also been spreading her theater wings. Last year, she was a villain in "Tales of Stonehaven."
"ArtSteam feels more like home than a class," she said. "My fellow actors are friends."
Belgard describes "Somewhere in Showtime," as a time travel piece. She plays a sheriff in the Wild West of the 1890s who "gets to arrest one of my friends," she laughed. "We end up going to prehistoric times, and some of us go to the Globe Theatre (of Shakespeare). We do a lot of singing, dancing and negotiating with the time traveler."
ArtStream's newest program is about reaching out to audiences.  The theater offers two free tickets to shows for young people 16-26 if they call three days ahead of performances.
The Gaithersburg performances take place May 3-5 and May 9-11 at the Bender JCC of Greater Washington, 6125 Montrose Road, Rockville.
The Silver Spring performances are scheduled for June 7-9 and 14-16 at the Silver Spring Black Box Theatre, 8641 Colesville Road. 301-565-4567. www.art-stream.org.