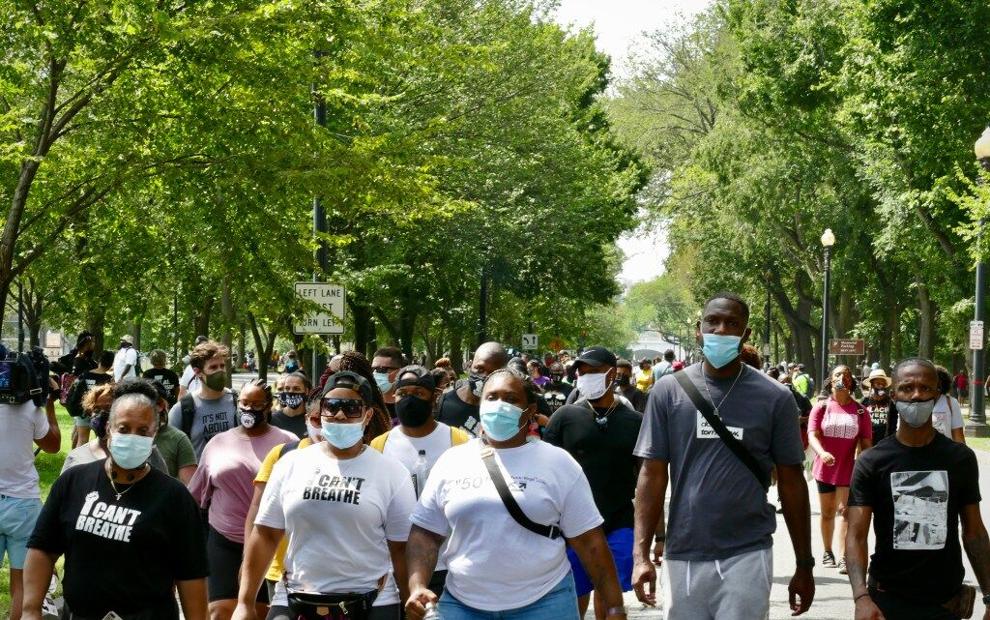 In the ongoing nationwide fight for racial and gender equity, students in Montgomery County continue their passionate push onward by getting involved in political advocacy on the local and state levels, and inspiring other students to express their inner advocate. Though this often overlooked collection of voices lacks the power to formally vote in elections, they more than make up for it through their influential work fighting for those who need it most.
One such student advocate for gender equity is Hana O'Looney, a junior at Richard Montgomery High School (RMHS). She is one of the two co-chairs of MoCo EmpowHER, a student-led organization fighting for gender equity across Montgomery County. Founded by former Montgomery County Public Schools (MCPS) Student Member of the Board of Education (SMOB) Ananya Tadikona in 2017 after losing her first bid for the seat, MoCo EmpowHER has grown not only to discuss and fight for women's issues, but also to provide important skills for female students in MCPS through career exploration events and leadership development opportunities. 
"I first got involved with MoCo EmpowHER in my sophomore year of high school, mostly because I was interested in educational equity in MCPS and the disproportionate amount of educational opportunities that are given to women and girls across the world." O'Looney said.
By utilizing a selective, three-month intensive educational program known as the Leadership Institute Fellowship, MoCo EmpowHER hopes to provide female students with leadership development opportunities not otherwise received in their schools, particularly in under-resourced areas of the county. Tangible skills such as public speaking, team dynamics, political organizing and an intersectional view on the history of women's activism across the world are taught, as well as opportunities for networking and bonding with peers. 
"We hope that with the knowledge and tools students from across the county gain through our leadership institute and our monthly programming, girls will be ready to tackle the most pressing social justice issues of our time." O'Looney explained.
So far, MoCo EmpowHER's advocacy for gender equity has paid off on the local level with the passage of the MCPS resolution to get free menstrual hygiene products in all MCPS schools, as well as on the state level with the passage of HB0208 in the Maryland House of Delegates. O'Looney hopes to be able to expand MoCo EmpowHER's mission even further in the future by advocating for the ratification of the Equal Rights Amendment (ERA) to the United States Constitution, as well as advocating for reproductive justice.
Sophie Barro, a senior at Bethesda Chevy Chase High School (BCCHS), is another student advocate fighting for racial equity. She is a member of the county-wide Minority Scholars Program (MSP), the Black Student Union (BSU), and Youth for Equity, student-led organizations fighting for racial equity. Called to action by the killing of Amhaud Arbery, an unarmed 25 year old Black man in Brunswick, Georgia, Barro said that she has a personal reason for getting involved due to "my brothers and sister with my skin color not fearing for their lives because the color of their skin being seen as a weapon." By organizing and taking part in town halls, workshops and a virtual MSP retreat in March, Barro hopes to educate students from across the county on racial justice issues and inspire students to become advocates in their schools and communities. 
"I believe students are doing better at holding others accountable and being actively anti-racist and I recognize that racial injustice is not something commonly experienced in the lives of white students, but staying silent about issues like this will never bring change. We need to keep fighting to make our voices heard." Barro explained.
Both O'Looney and Barro hope to inspire more middle and high school students to get involved in the fight for gender and racial equity. MoCo EmpowHER's monthly events are open to any and all MCPS students regardless of gender identity and can be registered for by visiting www.mocoempowher.org or by following them on social media @mocoempowher. The county-wide MSP program is open to all middle and high school students as well; more information can be obtained by speaking with the MSP Coordinator at each school and learning more about their own school's MSP program.