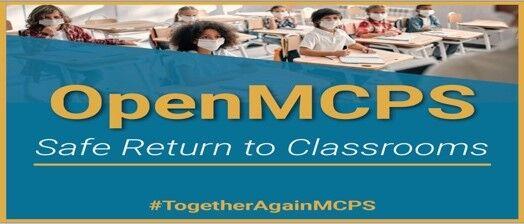 FOR IMMEDIATE RELEASE, Feb 16 –Together Again MCPS, an organization representing several thousand Montgomery County parents and students, today urged the Montgomery County Board of Education to require MCPS accelerate its phase-in schedule and prioritize the direct or simultaneous instructional models, not the third indirect "babysitter" model.
"With the current plan, most students will not see the inside of a classroom for another 70 days, and some will have as little as 14 days in the classroom for the remainder of the year.  This is unacceptable," wrote the parents in their letter. "MCPS will not complete phasing until April 26, a full six weeks or more after most school systems in our area.  While most districts have completed their phasing in three weeks or less, MCPS is taking nearly two months."
Many other school systems in the region have a much more accelerated plan, most of which will be fully in session by March 15. Charts detailing the number of days each grade will be in-person under the current MCPS plan can be viewed here.  Together Again MCPS also noted that MCPS has not made a good faith effort to open schools on March 1 as requested by Governor Hogan.  Instead, 700 MCPS students will return to their classrooms then, less than .5% of the MCPS student body.
"We are disappointed to see that MCPS is once again an outlier compared to all other school systems in the region and in the U.S.  MCPS had always been a leader.  This plan puts our students at a severe disadvantage and positions our school system as the follower, lagging behind all others," continued the parents.
In addition, Together Again MCPS urged MCPS to maximize its direct and simultaneous teaching models, not the third model which has students learning in classrooms on Chromebooks, with no in-person teachers. Numerous school districts have invested the resources to make simultaneous, also known as concurrent, instruction a priority.  Others are having teachers split time between direct live instruction to students in the classroom and virtual instruction for students who choose to learn from home.  Calvert, Cecil and Carroll counties in Maryland have embraced direct instruction.  Fairfax County in Virginia has successfully conducted a pilot program and plans to implement simultaneous teaching.
"While the majority of students in the U.S. have returned to in-person instruction, our children have been suffering the consequences of extended virtual instruction for nearly a year.  While thousands of teachers are providing concurrent/simultaneous instruction to in-person and virtual students, our students are told classroom instruction will mostly remain virtual (using Chromebooks in class).  While most school districts have taken three weeks or less to phase-in all students, our county is requiring nearly two months," wrote the parents.  "MCPS and its teachers and staff have been planning for 11 months and have had ample time to ready the school buildings and to hire additional staff to appropriately meet the challenges of social distancing.  Please maximize our students remaining days this year, both in terms of quality and quantity."
On January 21, Maryland Governor Larry Hogan and Superintendent of Schools Dr. Salmon announced that there is no longer a public health reason to keep schools closed.  They eliminated community metrics as a requirement for reopening, and they called on all Maryland school districts to reopen by March 1 for in-person instruction with teachers.
On Friday, the CDC released new guidelines for reopening.  Under the CDC guidelines, considered conservative by most public experts, all MCPS students should be able to return to school immediately, particularly K-5 students.