By Elle Meyers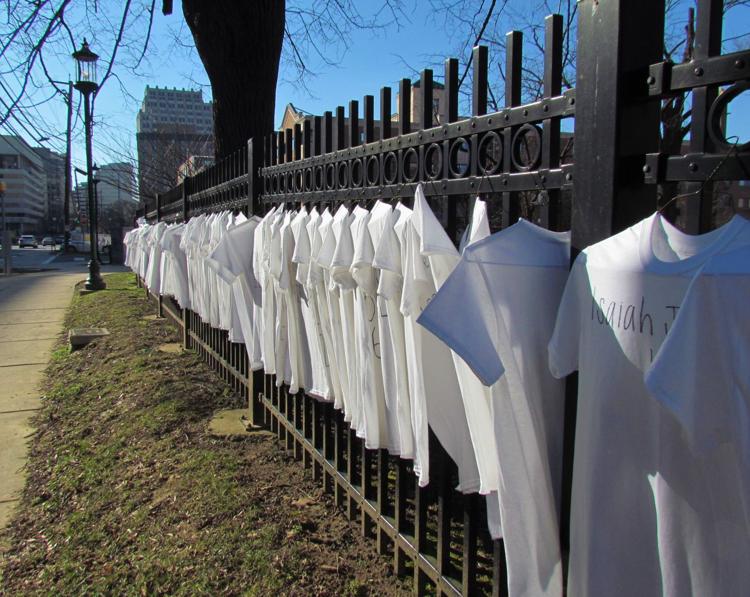 BETHESDA – Hundreds of white t-shirts lined the front of Bethesda-Chevy Chase High School, a stark tribute to how many students have died through gun violence in the last year. The memorial was created and organized by the club BCC For Gun Control, and put up on the anniversary of the mass shooting at Marjory Stoneman Douglas High School in Parkland, Florida.
"We wanted to remind people why we started fighting for gun control in the first place," said Ethan Tiao, a student leader of BCC For Gun Control. Tiao, who is a junior at B-CC, started the activist group with seniors Anna O'Keef, and Emily Schrader.
Each t-shirt, 671 in all, has the name and age of a student killed by gun violence written in black marker. Included in the exhibit is one local man Jon-Christian Kemechet-Webster, 20, who was killed in Silver Spring last year. His name is written in red and is the only adult included in the display at the request of his mother who became a local activist for gun reform after her son's death.
The three leaders found the 671 names by tweeting at the Gun Violence Archive, a non-profit organization that provides statistics about gun violence in the United States. The display at B-CC encompasses students aged 12-17 who were gunned down in a variety of ways; through massacres, suicides and even accidents.
"It's not just happening in mass shootings or in domestic abuse," said O'Keef, a BCC For Gun Control leader. "It's also happening in suicides and literal accidents, it's happening in all forms."
Their group enlisted the help of other students and clubs at the high school to make the display a reality, Tiao explains. They held meetings, coordinated with other student groups and had classmates write names on three t-shirts each in an assembly line during lunch periods and club meetings.
"We're so proud of what they're doing," said Kristen O'Keef, a BCC For Gun Control mother. "But it's obviously bittersweet."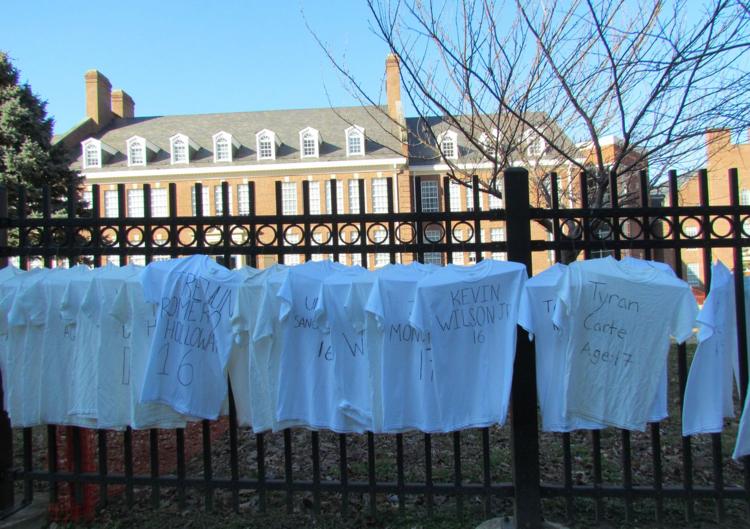 Tiao explained that it's a shame that the responsibility to push for common sense gun reform has fallen to teenagers. But, O'Keef added, "we have the power to act and we need to take that opportunity."
The group held a fundraiser last year through GoFundMe that brought in nearly triple the $500 goal. O'Keef explained that with the money they bought white t-shirts, black permanent markers, and hangers. The extra money went to buying nearly 400 extra hangers and 300 extra shirts along with a website domain for their next project.
Caitlyn Trimble is the group's faculty advisor and oversaw the project, but she insists the students of BCC For Gun Control were wholly in charge of the project. The group received the green light for the plan from B-CC's Principal Dr. Donna Jones and Assistant Principal Dr. Brenda Lewis, Trimble explained.
It was important to the school's administration that the display stray away from politics. A sentiment O'Keef echos, saying: "This is not meant to be a partisan issue, this is about life and death."
The issue of gun reform is a controversial one, and the students of BCC For Gun Control learned that lesson last year during a similar exhibit.
"We saw last year how polarizing the issue got," Tiao explained. "[but] we wanted to bring it back to the victims, we wanted to remind people why we started fighting for gun control in the first place, and that you don't have to be Republican or Democrat to care about a student's life."
The group is planning more projects for the rest of the school year, including launching a website dedicated to the stories behind the names memorialized in this display along with participating in legislative action. The leaders of the group aim to organize activities like email campaigns to legislators, voter registration drives and to lobby U.S. senators to support H.R. 8 which strengthens background checks for people looking to purchase firearms.