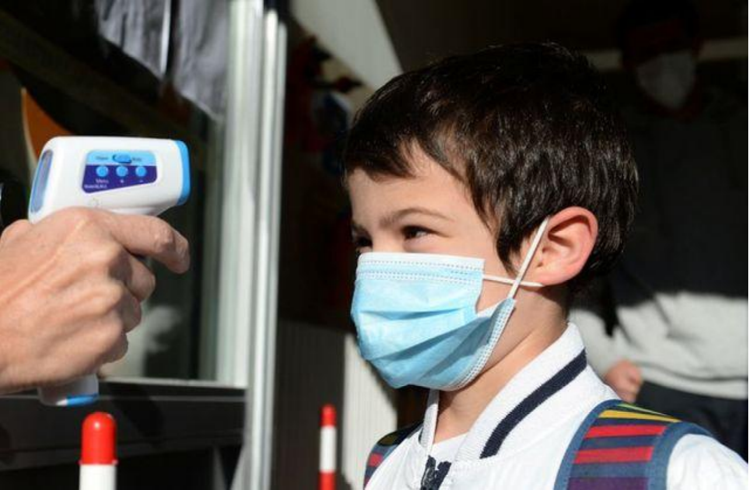 BETHESDA, Maryland -- "You couldn't tell whether it's nothing or it's the apocalyptic walking dead," said Marcus Alzona, a member of Legislative District 16 on the Central Committee of the Montgomery County Republican Party, on COVID-19 after the initial 2-week closing of schools in the midst of the 2019-2020 school year. Now with no vaccine in sight, residents, specifically Republicans, are conflicted on the question of whether schools should reopen in the fall.
On March 13, Montgomery County Public Schools (MCPS) and others in Maryland announced that schools would be closed from March 16 to 27 in hopes of containing the coronavirus. That two week closure soon continued for the rest of the year, and online learning was put into action. With a new school year on the way, many are asking the same question; should students risk their safety for a chance at returning to normalcy, or is not sending students to school the only option to contain the virus?
Republicans in Maryland are eager to safely have students back in the classroom. "It's so serious not having kids socialize and being exposed to teachers and other adults," said Dennis Melby, Chairman of the Montgomery County Republican Central Committee. This same concern is shared by many across the globe as they're worried for the potential lack of social skill development necessary for growing individuals that in-school learning provides.
Essentially all schools in Maryland are moving forward with virtual learning for the beginning of the year. Counties may decide to transfer to in-person or a hybrid plan (a mix of online and in-person learning) later in the year.
In the discussion about distance learning, the main concern was for elementary school children. "How do you teach a 4 or 5 year old over the computer?" Said Kathy Szeliga, a member of the Maryland House of Delegates and resident of Baltimore. She is one of the many who are extremely concerned for the education gap that may develop for the youngest and most vulnerable generation. "We didn't close schools for H1N1 [swine flu] or the flu," said Mrs. Szeliga. "We have to stay committed to education."
"I get why this area would do such a policy, but I believe that it's somewhat of a mistake, especially for younger students," said Mr. Alzona, "if you base it on science, it shows that young children are not the typical spreaders of the virus."
Mr. Melby and Mrs. Szeliga both believe that a hybrid plan would be most reasonable for students to slowly integrate back into regular school, but both are disappointed their school districts have not chosen this path. As an MCPS parent himself, Mr. Alzona was very frustrated when the county conducted a study asking parents to choose which plan they wanted for the fall, and didn't provide an option for students to return to school five days a week like normal. The conversation of returning back to school "might involve changing the classrooms a lot, but I don't think it involves going completely virtual," said Mr. Alzona, "especially for the youngest students who have the most difficulty and would fall the furthest behind by another 6 months or a year of distance learning."
Another factor Republican officials have considered that have turned them against full online learning is the effect on disadvantaged communities. "It's only gonna widen the achievement gap," said Mrs. Szeliga. Many marginalized communities rely on schools for meals, access to technology, and child care.
"Here in Bethesda we're relatively well off compared to the rest of the country, and the rest of the county," said Mr. Alzona, "but for working class families you're forcing parents to either have a child or have a job." Mr. Alzona continued to explain how many parents can't afford to stay home so their child can complete online learning."For those parents, saying 'oh everyone stay at home' that's not something they can do. Maybe they can't use Zoom for their specific job," said Mr. Alzona. According to local Republicans, online school is hurting those who are the most vulnerable.
Furthermore, Republicans don't have high hopes for when online learning actually begins. "There's a difference between what people think is gonna happen and the real world," said Mr. Melby. "You know kids don't do what adults think they are gonna do." Mr. Melby continued, clarifying how when students are "in the school and under the influence of teachers and other students, they go with the flow and do their work, but when they are at home they just kinda let it go."
An additional point many Republicans have brought up in the discussion of whether children should return to school is the classification of essential workers. According to the National Conference of State Legislatures (NCSL), teachers are not considered essential workers, however many Republicans are forcefully against this.
"Is it bad to argue that education is essential work- that teaching is essential work?" Said Mr. Alzona, "I thought that was a given. Having elementary school kids have an education is essential to our society."
"Healthy, young teachers can still teach in a safe way." Said Mrs. Szeliga, "when COVID-19 hit, all essential workers still did their job. We have to prioritize workers, and teachers are essential workers."
While many Republicans officials in Maryland share the same opinion as officials at the federal level, they believe the media has distorted their views on this topic. "I think [the media] always refers to Republicans as being extremely right wing." Said Mr. Melby, "that's just a media bias that's been around for a long time. Yes Republicans want schools to reopen, but want them to reopen safely for both students and teachers. Safety is the main point."
"There's a notion that Republicans don't think the virus is serious." Said Mr. Alzona, "Republican politicians are just trying to figure out practical solutions as to how this country and community can deal with the crisis."
Regardless of political affiliation, no one is sure of the future. "What if there is never a vaccine?" Said Mr. Melby, "What if they find out that it can't be cured somehow. We do still have to move on, we still have to have a life, and have the kids have a life." Republicans want to be sure their community is ready for anything to come.
"It is a tough job, and it's not like everyone has a complete playbook at this point." Said Mr. Alzona, "people across the county, across the state, across the country, and across the world are still trying to figure this all out."