SILVER SPRING – Although it's not included in County Executive Marc Elrich's proposed budget, Councilmember At-Large Evan Glass still hopes to see reliable and free bus service for students throughout the county.  
Currently, after purchasing a $2 Kids Ride Free pass, students can use Ride On buses and certain Metro buses at no cost, but only between 2 p.m. and 8 p.m.
In a letter to Elrich, Glass wrote, "I urge you to make the Kids Ride Free program available all day, seven days a week, to every Montgomery County Public School student."
The Kids Ride Free program provides free rides on all County Ride On buses and certain Metrobus routes to young people who are county residents and are in school. The program runs year-round. Students just need to show their Youth Cruiser SmarTrip card.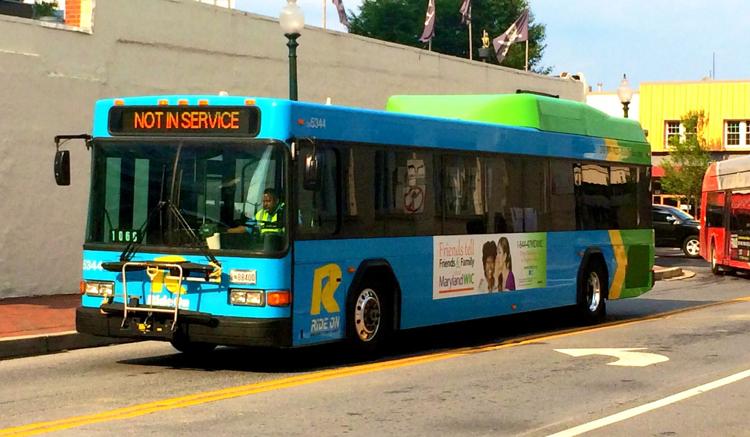 According to the county's Department of Transportation, providing all-day free bus service would cost "approximately $1 million" per year, Glass said.
Glass believes that adequate and free bus service is a matter of equality. Without reliable transportation, young people cannot get to jobs and participate in extraordinary programs, he said.
Last year, Zoe Tishaev, an 11th grader at Clarksburg High School, was excited to become an early voting election judge but disappointed to realize she had to be at the poll site before 9 a.m., when bus service in her area is not reliable, she said. Because of the lack of bus routes upcounty, rides from her parents or ride-share services like Uber have become her forms of reliable transportation.
"We have very poor sidewalk structure and Ride On bus service," Tishaev said. "Overall, it's not pedestrian friendly. Anyone who does not have their own automobile" has difficulty getting around.
"I know for a fact that a lot of kids" would welcome more buses routes, and especially free ones, she said.
Glass said students have "complained to me about the unreliability of bus service and the routes within the system."
Not only young people have transportation problems. The councilman needs to take two buses to get from his home in Silver Spring to his county office in Rockville.  
One day early in his term, it took Glass 90 minutes to get home "so I understand how difficult it is for adults, let alone students," he said.
"Montgomery County is focused on equity and social justice this year," Glass said, noting that reliable transportation must be offered throughout the county for that to happen.
The more-affluent communities have two times the amount of bus service that the poorer communities have, Glass said.  In his letter, Glass said that lowest-income areas have "nearly double the number of carless households than our higher-income areas.
"Economic status should not determine our students' ability to get to the library, Metro or back to their homes." Glass said. "Inequality of mobility leads to inequality of opportunity."
Glass explained, "When kids have to pay to go to school, to go to work, to care for family members, to attend after- school programs, it puts them at a tremendous disadvantage."
When writing to Elrich, Glass noted that access to transportation is "a leading indicator of a person's ability to escape poverty. From fiscal year 2004 through fiscal year 2018, poverty in Montgomery County increased by 46 percent, and the number of public school students receiving Free and Reduced Meals (FARM) rose from 23 percent to 35 percent of the student population."
Councilman Tom Hucker also supports expanding the Kids Ride Free program. At a recent transportation forum in Kensington, Hucker said not only would students be able to take advantage of more opportunities; they also would view come to view public transportation as a viable source of commuting. Currently, 73,000 people use Ride On bus service daily, Hucker said.
"Let young people see transportation is more than something to use when your car doesn't work," he said.
The more they use public transportation to get around, the more likely they are "to think of public transportation all their life."