WHITE FLINT— In the coming weeks, the city of White Flint will finish roadwork that makes up one of the first phases in a large redevelopment project for the area.
This phase of the project called the West Workaround began on Feb. 10 and will move underground utilities to prepare for realigned roads that are more accessible to walkers and bikers.
"It's trying to create a more urban environment here in the White Flint area by creating a grid system so you can very easily walk to places," said Amy Ginsburg who is the Executive Director of Friends of White Flint.
The non-profit organization focuses on implementing the White Flint Sector Plans and advocates for a more sustainable and transit friendly community. This project, Ginsberg explained, and the upcoming road realignment are steps to make it easier to get around the Pike district without having to use Rockville Pike road.
According to Montgomery County Planning, the Sector Plan is meant to transform the White Flint neighborhood from one that relies heavily on cars to a walkable urban area with a mixture of residences and businesses. The plans for the project, which are available to read online, highlight the need to rework and realign the Rockville Pike from what is now considered a traffic barrier into a more accessible boulevard.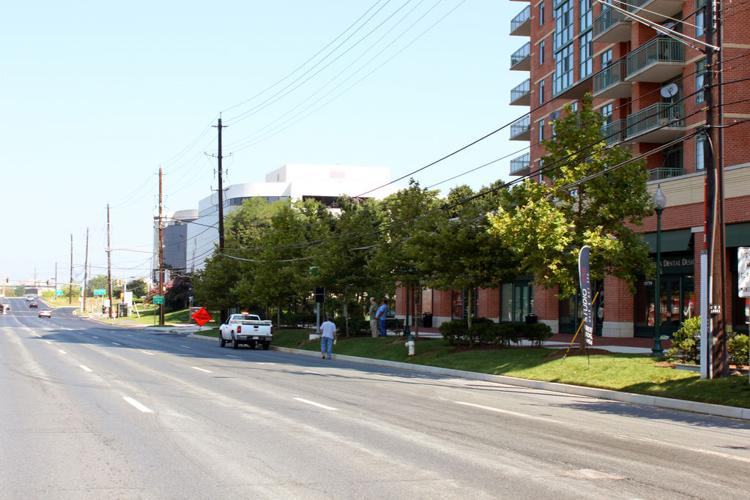 The long-term redevelopment has been in the works since the early 1990s according to Project Manager N'kosi Yearwood. White Flint's plans for revitalization came along with similar long-term projects in areas like Germantown and Twinbrook.
"White Flint was next on the proverbial list," Yearwood said. The White Flint Sector plan was passed back in 2010 by the Montgomery County Council.
The West Workaround includes roadwork and lane closures on Executive Boulevard, to move underground electrical and telephone wires.
"Turns out this area is a nexus for utilities," Ginsburg said. This phase of roadwork should'nt cause major delays and this phase of roadwork is expected to be finished by the end of Winter 2019, according to the Montgomery County Department of Transportation.
The area is in a unique position for growth and development  ,according to Ginsburg. The plans for development were well thought out, she explained, and allowed for outside input that engaged the community in the project. The White Flint Sector Plan was overwhelmingly supported by the community when it was passed in 2010, according to Friends of White Flint.
"(White Flint) never had an identity, it's always been sort of a no man's land in between Bethesda and Rockville," Ginsburg said. She said that the White Flint area has the potential to become a hub of commerce and activities in Montgomery County because of ample room to grow.
When it's finished, the project will give White Flint bike paths, pedestrian pathways and even outdoor seating. Ginsburg said that improved walkability shouldn't be boiled down to simply how close things are, but also the experience of getting around. A more accessible commute via Metro or on foot will be beneficial to people of every age in the community which she explains is part of what makes White Flint special; the variety.
"It's just one of these areas where there's a little bit of everybody," she said. "There's people of all ages, of all socioeconomic strata, there's just diversity in any way you can think of diversity, and that makes it a very interesting place to be."
The community seems to have embraced the redevelopment as well. Michael Krauthamer, a White Flint resident, explained that he is looking forward to having a more walkable and vibrant neighborhood to spend time in.
"We're excited for the new street grid," he said. "It will tie the residential part of White Flint over to Pike and Rose (retail district)."
The project is a long one and ultimately changes to the community will continue in smaller leaps and bounds, in a property-by-property basis. According to Yearwood, there is no established end date for the White Flint Sector Plan. But one resident already describes White Flint as a hidden gem in Montgomery County and a long-term, thoughtful, redevelopment is sure to make it even better.