SEABROOK – Former Georgetown University tennis coach and Chevy Chase resident Gordon Ernst is accused of taking bribes and helping admit high school students to the school as athletes as part of a national college admissions scandal uncovered by the FBI on March 12.
Ernst was charged with conspiracy to commit racketeering and accepting bribes. He was released on a $200,000 bond in federal court in Greenbelt and surrendered his passport. According to FBI officials, the former tennis coach was one of several university officials around the county that helped secure college admissions for students of wealthy families.
Parents would pay money to William Singer, owner of the for-profit college counseling company Edge College & Career Network and CEO of the nonprofit Key Worldwide Foundation. Singer would arrange ways for students to cheat on the ACT and SAT tests to use for his nonprofit bank accounts to wire money to coaches and university administrators as bribes to admit students as athletes.
Actresses Lori Loughlin and Felicity Huffman were named and charged in the investigation for paying Signer to help admit their children into universities. In total, 50 people were charged in the fraud investigation that was named by FBI officials as "Operation Varsity Blues."
"This case is about the widening corruption of elite college admissions through the steady application of wealth combined with fraud," U.S. Attorney for the District of Massachusetts Andrew Lelling said. "There can be no separate college admission system for the wealthy, and I'll add that there will not be a separate criminal justice system either."
Ernst coached the Hoyas for 12 years and provided lessons to former First Lady Michelle Obama and both her daughter Sasha and Malia. He was inducted into the New England Tennis Hall of Fame in 2015.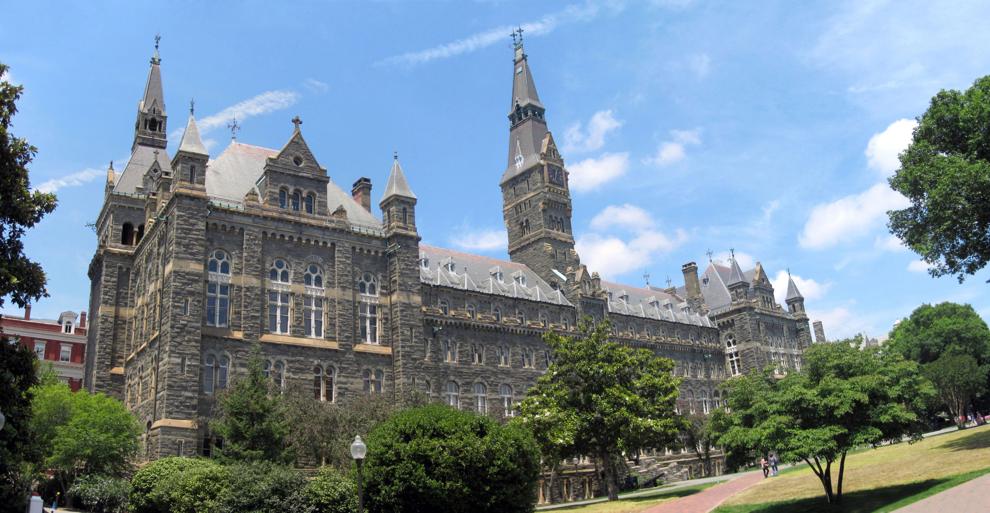 According to U.S. District Court indictment, Ernst was paid more than $2.7 million in bribes from Singer and labeled as consulting fees from 2012 to 2018. Singer would use a charitable account to send the funds to the former tennis coach. In exchange, at least 12 students were brought in as recruits for the Georgetown University's tennis team.
Some of the players did not play the sport competitively so Ernst "falsified information" to the university's admissions office, according to the FBI. In 2015, three spots allocated for student admissions to Georgetown as part of the tennis program's recruitment all went to Singer's clients, and none of them played tennis.
"For every student admitted through fraud, an honest, genuinely talented student was rejected," Lelling said.
Between 2015 and 2016, Ernst received checks as high as $700,000 as part of the scandal, according to the indictment. Ernst announced his resignation on June 30, 2018, and took up the role as the women's tennis coach at the University of Rhode Island.
In a statement, Rhode Island announced that it placed Ernst on administrative leave while "it continues to review the matter." The athletic department confirmed that they spoke to Georgetown officials before making the hire and received a "positive reference check" from the University.
An open letter, signed by Vice Presidents Lisa Brown and Erik Smulson, was released to students on March 12 and it stated they were "troubled" to learn of the investigation but that the U.S. Attorney's Office listed Georgetown "as a victim in the criminal case." Officials also said that Ernest was under internal investigation in 2017 after the admission office found irregularities in the credentials of students being recruited to play tennis.
"The University was not aware of any alleged criminal activity or acceptance of bribes by Mr. Ernst until it was later contacted by the U.S. Attorney's Office, with whom we fully cooperated in its investigation," the letter said. "Mr. Ernst's alleged actions are shocking, highly antithetical to our values and violate numerous University policies and ethical standards."
According to the indictment, if convicted of racketeering, Ernst will need to hand over his membership to the Chevy Chase Club, his investment accounts, a house in Massachusetts and more than $2.7 million gained through the fraud.
The reaction from students at the university has grown negatively with a petition by alum Mickey Lee gaining traction. In his online petition, the 2005 graduate is asking university officials to rescind admissions and degrees by any student involved in the admissions scandal. As of March 20, 15,846 supporters have signed the petition.
"The reputation, honor, and future of our university will remain permanently tarnished unless Georgetown University wipes the stain off by erasing these mistakes from its history, including all who benefited from this scandal and graduated or are currently enrolled in the university as students," Lee said.
Other schools named in the indictment were the University of California, Los Angeles (UCLA); Stanford; Wake Forest; University of Southern California (USC); University of Texas and Yale.