The Magruder High School boys basketball team's bid to earn the program's third state title fell short on March 8 in the Class 3A West Region championship game.
[See more from the regional championship game here!]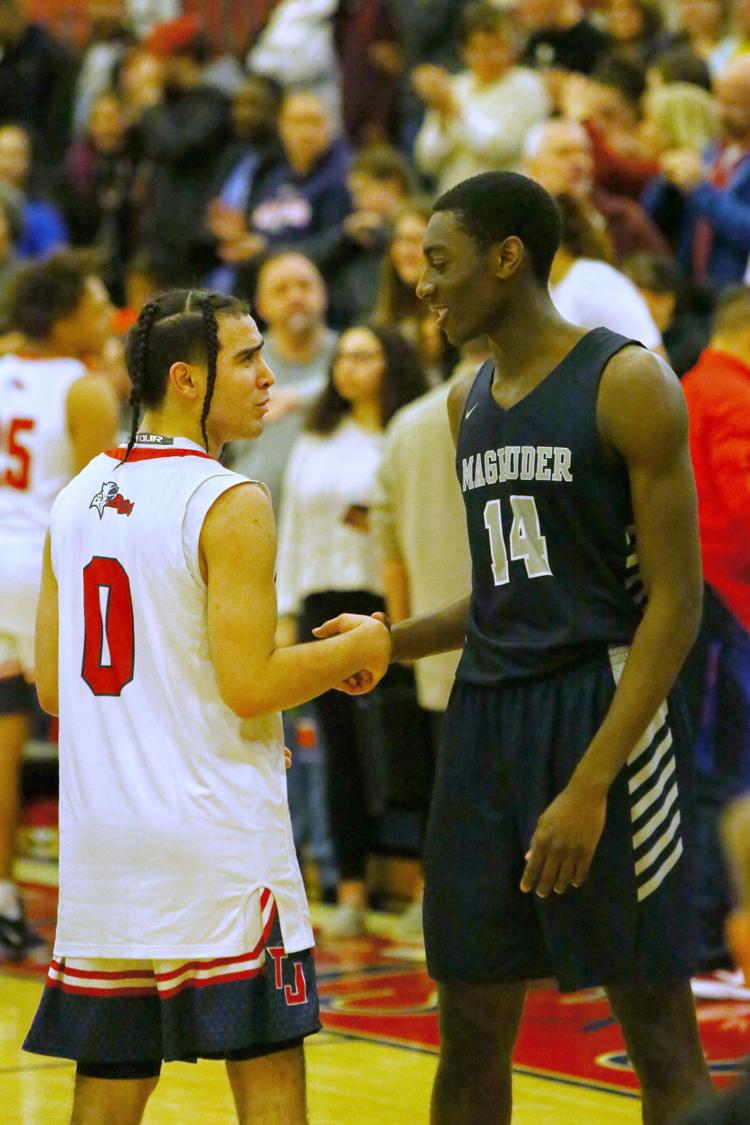 Thomas Johnson of Frederick County advanced to the state semifinals by capturing a 55-51 victory over the Colonels.The Patriots, who improved to 20-5, will play Reservoir on March 14 at the University of Maryland's Xfinity Center.
Meanwhile, Magruder, who was seeking to earn the school's first state championship trophy since 2012, finished the season at 19-6.
The Colonels got a stellar performance down the stretch from talented senior forward Ebby Asamoah but that wasn't quite enough to secure a victory over the Patriots.
Despite the loss, Magruder had a successful season with victories over Montgomery County opponents such as Blair, Northwest, Sherwood, Churchill, Einstein, Walter Johnson, Seneca Valley, Rockville, Damascus, Springbrook, Watkins Mill, Gaithersburg, Poolesville, Paint Branch, Whitman and Blake.
Magruder, who also won a state championship in 2001, will have to wait another year to bring home another trophy.
Meanwhile, Springbrook, another county boys basketball team looking to add some hardware to its trophy case, suffered a disappointing loss to host Dulaney, 70-68, in the Class 4A North Region championship game.
Dulaney sophomore Ryan Conway scored a game-high 30 points and junior Che Evans netted the game-winning layup with 2:24 remaining in the fourth quarter to lift the Lions to victory over the Blue Devils.
Dulaney, who improved to 22-3, will play Eleanor Roosevelt in the 4A state semifinals. Ike Cornish and Cameron Byers for the Lions also contributed to the win, finishing with 14 and 12 points, respectively.
Springbrook senior Timitrius Hawkins scored 26 points to lead the Blue Devils and junior Marcus Davis finished with 19 points.The Montgomery County side jumped out to a 12-11 advantage in the first quarter before Dulaney roared back behind Conway's outstanding shooting performance in the second quarter.
Conway finished with 16 points including a pair of 3-pointers in the period and Hawkins finished with 17 points including five 3-pointers.
On the girls side, Paint Branch suffered a 66-43 loss to Western in the 4A North Region championship game. Paint Branch was led this season by seniors Katerra Myers, Obriani Remy and Precious Oyinloye.
The Panthers finished the season at 19-6 and Western moved into the next round where they are scheduled to take on Flowers in the 4A state semifinal game in Towson on March 14.
The Poolesville girls basketball team's bid to capture back-to-back state championships was foiled by Frederick County opponent and eventual regional champions Middletown, 44-32, in a 2A West Region semifinal game. Poolesville finished the season at 19-5.
Despite a valiant effort, the Rockville girls basketball team fell short in its quest for a state title. The Rams lost to Westminster, 54-37, in a 3A West Region semifinal game. Rockville finished the season at 13-10.
"It was an awesome season and excited for the future together!" Rockville head coach Gretchen Gregg said via Twitter. "So thankful for my staff and players – you made this such a special season!"
You can contact Brandy at: blssports@hotmail.com