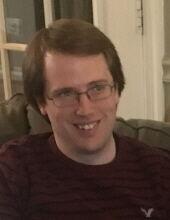 Patrick Heffelfinger
December 3, 1990-November 2, 2020
On Monday, November 2, 2020, (John) Patrick Heffelfinger, beloved son of Trish and John Heffelfinger and brother of Dan Heffelfinger passed away peacefully at age 29 surrounded by his family. Patrick was born in Washington, DC and lived in Potomac, MD. He attended Thomas Wootton High School in Rockville and the University of Maryland College Park. In 2013 Patrick graduated from UMD Smith School of Business where he earned a BS in Accounting and a BS in Finance.
During college Patrick studied abroad in Copenhagen, Denmark and enjoyed travelling to Paris, Rome, Istanbul, Frankfurt and London. Each summer Patrick looked forward to family vacations spent in Fenwick Island, DE. He became an avid snorkeler during family trips to the Caribbean.
In addition to travel, Patrick had a passion for hiking and in the fall of 2019 on a trip to Maine he scaled the majestic Beehive trail in Acadia National Park. His favorite local hike was to Great Falls Park in Maryland and the Billy Goat Trail. Patrick loved sports and was an avid fan of the Washington Nationals and Caps.
Patrick is survived by his parents, Trish and John and his brother Dan. He was beloved by many aunts and uncles, cousins, and friends.
Due to Covid restrictions there will be no memorial service at this time. In lieu of flowers contributions may be made in memory of John Patrick Heffelfinger to the Inova Heart & Vascular Institute by visiting the Inova Health Foundation at foundation.inova.org, or via the following link: https://www.Inova Heart & Vascular Institute /