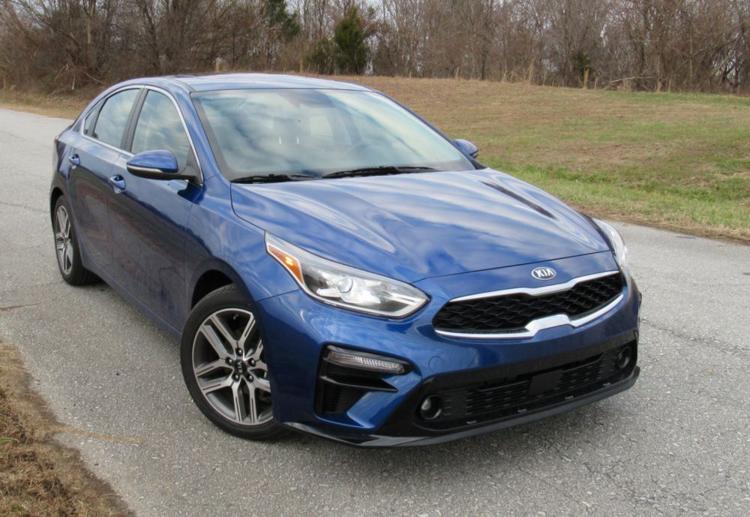 Three compact cars have recently appeared on Car and Driver magazine's annual "10 Best Cars" list: the Mazda3, Honda Civic and Volkswagen Golf.
These models stand apart from the economy-car norm by providing a higher grade of refinement, luxury and driving enjoyment. They're not cars you buy only because that's as much money as you have. They're not good merely on a relative standard. They're desirable automobiles that also happen to be inexpensive.
The redesigned 2019 Kia Forte takes a different tack. This compact sedan offers affordable, economical and safe transportation, and it does so excellently. It doesn't really try to go farther, but it also doesn't sacrifice the basics of value or spaciousness to pursue a higher ambition.
Prices start at $18,715, with a generous helping of standard features and a long warranty. The tested fully loaded EX Launch Edition rose to a still-competitive $26,220.
The new Forte's styling speaks to its economy purpose. This sedan is cleanly styled and contemporary, without being aggressive or head-turning. It adds some edges to last year's gently rounded Forte, and the headlights show some influence from the Kia Stinger, the brand's new luxury performance car. The rear end has a hint of European luxury with its slim taillights, which are connected by a light bar spanning the trunk. This is a design that looks fresh now and should age well.
The interior design follows a similar theme. The Forte has adopted the modern trend of mounting a touchscreen on the dashboard, which keeps the screen high and close to the driver without putting the full dash up in your face. The Forte doesn't have luxury-grade interior materials, but it doesn't feel aggressively low-rent. Android Auto and Apple CarPlay smartphone integration are standard equipment, as is a big 8-inch touchscreen. And all controls are simple and user-friendly.
Kia made the Forte slightly bigger for 2019, but the interior volume is similar — there's plenty of space up front and decent accommodations in the back, about average for today's compact sedans. The trunk continues to be a strong point, with a 15.3-cubic-foot volume that rivals many midsize models. Last year's five-door hatchback has been discontinued, though.
On the road, the Forte's suspension is tuned for sportier handling than you might expect from a budget-focused economy sedan. The steering feels natural and responsive — a step above the competing Toyota Corolla, Nissan Sentra, and Hyundai Elantra sedans, and the last-generation Forte, even if there's not enough zest to make driving enthusiasts come running. The trade-off is a slightly bumpier ride than those cars.
Every Forte uses a 2.0-liter naturally aspirated engine with 147 horsepower. That's less zip than the advanced turbocharged engines used in many competitors, but the Forte feels peppier than a Corolla or Sentra. The engine is quieter, too — even though Kia uses a continuously variable automatic transmission, a design that sometimes provokes engines to drone loudly under acceleration. EPA fuel-economy ratings are excellent at 35 mpg in mixed driving on the base model and 34 mpg on the rest of the line (though lower with the hard-to-find manual transmission).
If the Forte sounds appealing, its closest competitor is the Elantra, from Kia's sister brand Hyundai. Its design is a couple of years older; its gas mileage trails the Forte's and its steering doesn't respond quite as quickly, but it has a wider array of advanced safety features on all but the base model.
The Toyota Corolla is another less-than-fancy compact sedan with a spacious interior and lots of safety features for the money. But the Corolla feels a generation behind the Forte's driving experience, interior decor and smartphone; a redesigned 2020 Corolla sedan is due this spring, based on the 2019 Corolla hatchback that's already on sale. The Nissan Sentra is similar — it accelerates slowly and noisily, and it doesn't have great ride or handling, but it's affordable and safe, and it has one of the roomiest interiors of any compact sedan.
Meanwhile, if you're willing to spend a little more for a more-sophisticated compact sedan, the Honda Civic stands out for its mix of refinement, sporty acceleration and handling, and interior space. The Mazda3 is fancier but has a tight rear seat.
Lastly, the Ford Focus offers excellent ride and handling at budget-leader prices, but it doesn't offer the latest advanced safety features, isn't fancy inside and also has little rear seat space.
Visit tinyurl.com/sentinel-forte to see more photos of the tested 2019 Kia Forte.
Brady Holt is a member of the Washington Automotive Press Association.