For many crossover buyers, utility is a logical top priority. They're paying extra for a crossover over a sedan because they want its extra cargo room.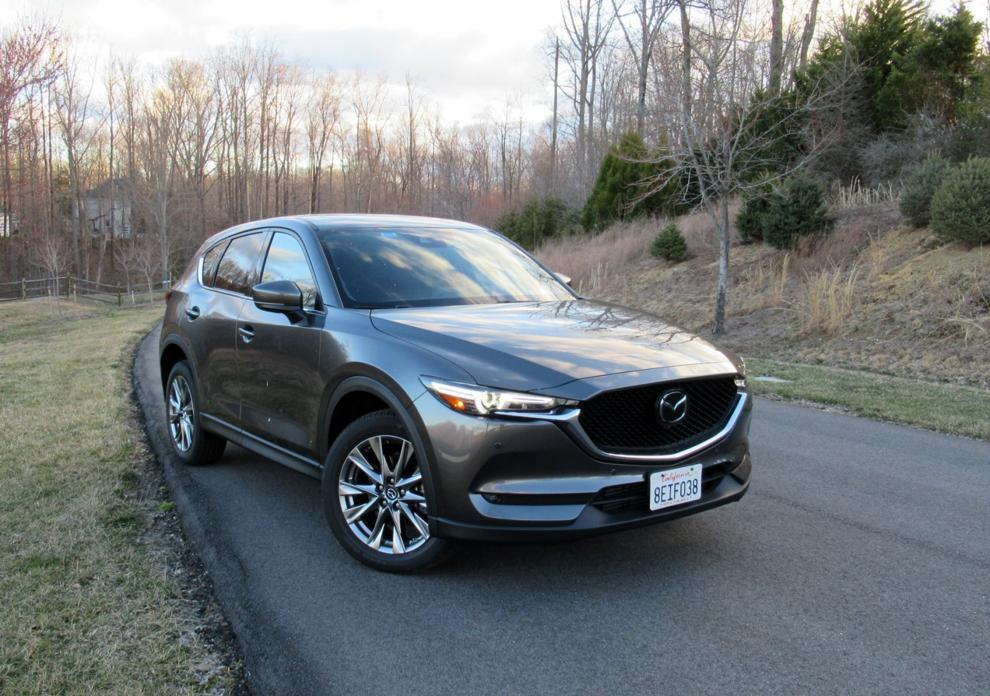 But maybe you like the idea of some extra luggage space without going for an all-business box on wheels. Maybe you'd trade a few cubic feet for a sportier driving experience, a more upscale cabin or a more striking design.
In the best-selling compact crossover class, this model is the Mazda CX-5. It's not as roomy as the best-selling Honda CR-V, Nissan Rogue or Toyota RAV4. But this Mazda looks and feels like a luxury car in comparison, all without costing as much as one.
Furthermore, the 2019 CX-5 adds a new turbocharged engine, giving this Mazda the performance to fully rival some premium-brand models, such as the Lexus NX or the Cadillac XT4 that we tested for last week's review.
Priced from $25,395, the CX-5 looks expensive even in its base form. All models have slim, confident headlamps astride a wide, forward-leaning grille, and an assertively hunched-forward silhouette. Every model also gets dressed up with alloy wheels, starting at 17 inches on lower trim levels and reaching 19 inches on pricier models. In short, this is no all-business box on wheels.
The premium vibe continues into the cabin. Like other recent Mazdas and many European luxury cars, the CX-5 creates a minimalistic dashboard by moving the audio controls to the center console between the front seats. The 7-inch infotainment screen looks increasingly small by today's standards, but its graphics are sharp and the system now supports Apple CarPlay and Android Auto smartphone integration. Discerning drivers might lament the CX-5's clunky-feeling turn signal stalk, but the overall ambiance is high-grade.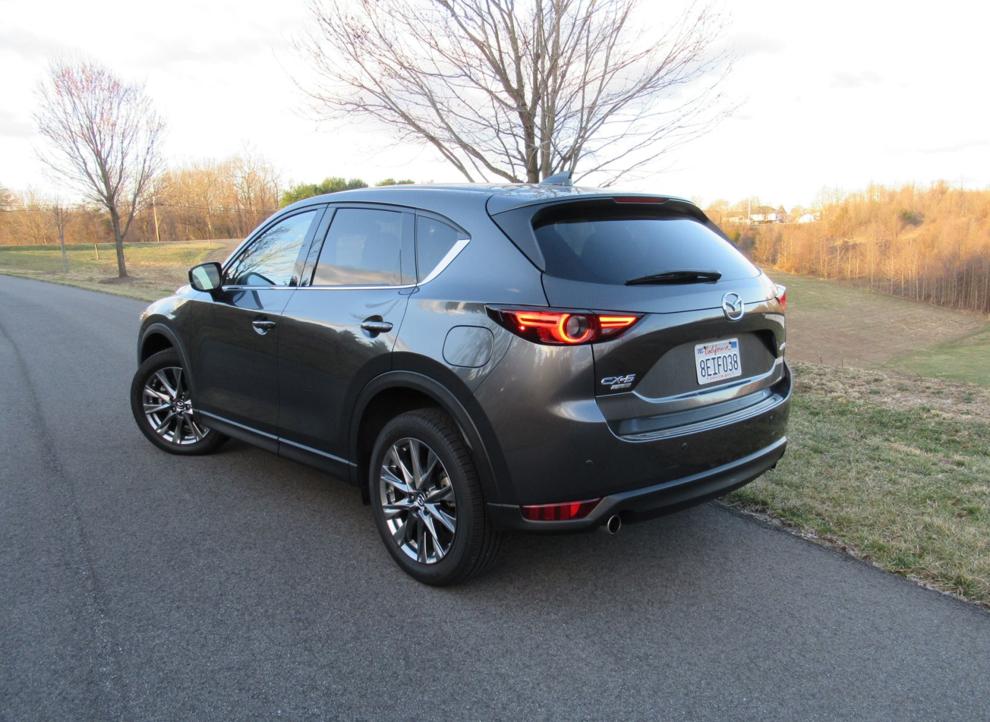 But even more than for its aesthetics, the CX-5 stands out most on a winding roads, where drivers can enjoy more responsive steering and higher handling limits than competing crossovers. And Mazda pulls off this agility without creating a stiff, unpleasant ride quality. Best of all, this isn't purely an on-road machine; Mazda's optional all-wheel-drive system is renowned for its performance in the snow. Some drivers might wish for lighter steering at low speeds while driving enthusiasts will welcome Mazda's touch of extra weight.
Most CX-5 models use a 2.5-liter four-cylinder engine whose 187 horsepower is competitive with other affordable compact crossovers, but does not elevate the package to a luxury level. New for 2019, the top CX-5 trims have a turbocharged version of that engine, which reaches 227 horsepower on regular-grade fuel or 250 horsepower on premium. It's the same engine that comes standard in the bigger seven-passenger CX-9, and it livens things up nicely in the CX-5. Even if you don't drive with a lead foot, you'll appreciate the turbo CX-5's effortless responses.
The base engine achieves 28 mpg in mixed driving with front-wheel-drive or 26 mpg with all-wheel-drive; the turbo slips to 25 mpg and 24 mpg, respectively. Both figures are reasonable for a compact crossover but not enough to make it a class leader for fuel efficiency.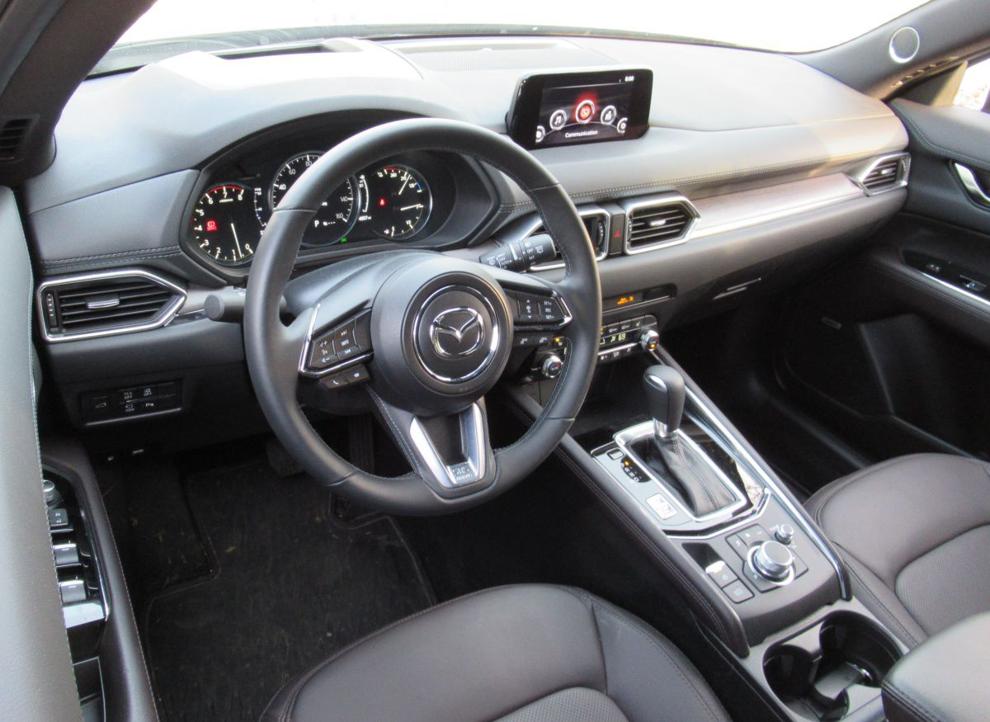 The same is true of the CX-5's interior space: decent, but not outstanding for its class.
The CX-5 has 31 cubic feet of cargo space behind its rear seat, and 59 cubic feet with the rear seat folded flat. Several competitors have roughly 30 percent more. But if you're not planning to pack your CX-5 to the roof, you might not notice the missing space. It's easier to miss the CR-V's extra-low cargo floor, which makes it easier to load and unload cargo.
Similarly, in the rear seat, the CX-5 has space for adults to squeeze in; they'll just have less knee clearance than they'd enjoy in several competing models.
Notably, though, if you're comparing the CX-5 to premium-brand crossovers, its interior space becomes highly competitive. Like Mazda, brands like Mercedes-Benz and Lexus also eschew the idea of building a purely functional box on wheels, trading some function for form.
If the CX-5 sounds like your kind of crossover – one with a more premium feel, sportier handling and more available horsepower than the compact norm –  there are a few other options to consider. Among mainstream-brand compact crossovers, higher-performance engines have disappeared over the years, but you can still get 200-plus horsepower from the aging but spacious and agile Ford Escape; the polished, comfort-focused Chevrolet Equinox and GMC Terrain; the pricey off-road-ready Jeep Cherokee; the seven-passenger Mitsubishi Outlander and the value-priced Kia Sportage.
While they have their respective appeals, none of these models has Mazda's blend of value, style, and handling poise.
And if those qualities seem frivolous in contrast to the basics of interior volume, fuel efficiency and straightforward ease of use, don't miss the polished, quiet Honda CR-V or the user-friendly, unassuming Nissan Rogue and Subaru Forester.
Visit tinyurl.com/cx-5-sentinel to see more photos of the tested 2019 Mazda CX-5.
Brady Holt is a member of the Washington Automotive Press Association.