Small used to be an anathema to Cadillac. The brand's style of luxury was achieved through maximum spaciousness and imposing size. Anything smaller than a boat was a weak compromise, exemplified by the 1982 Cimarron, which was essentially a Chevy Cavalier with leather upholstery.
The historic Cadillac legacy lives on in the Escalade full-size SUV.  As the brand struggles to sell its sedans, large or small, Cadillac has also launched its smallest new vehicle since the Cimarron. And as with the Escalade, Cadillac is going taller.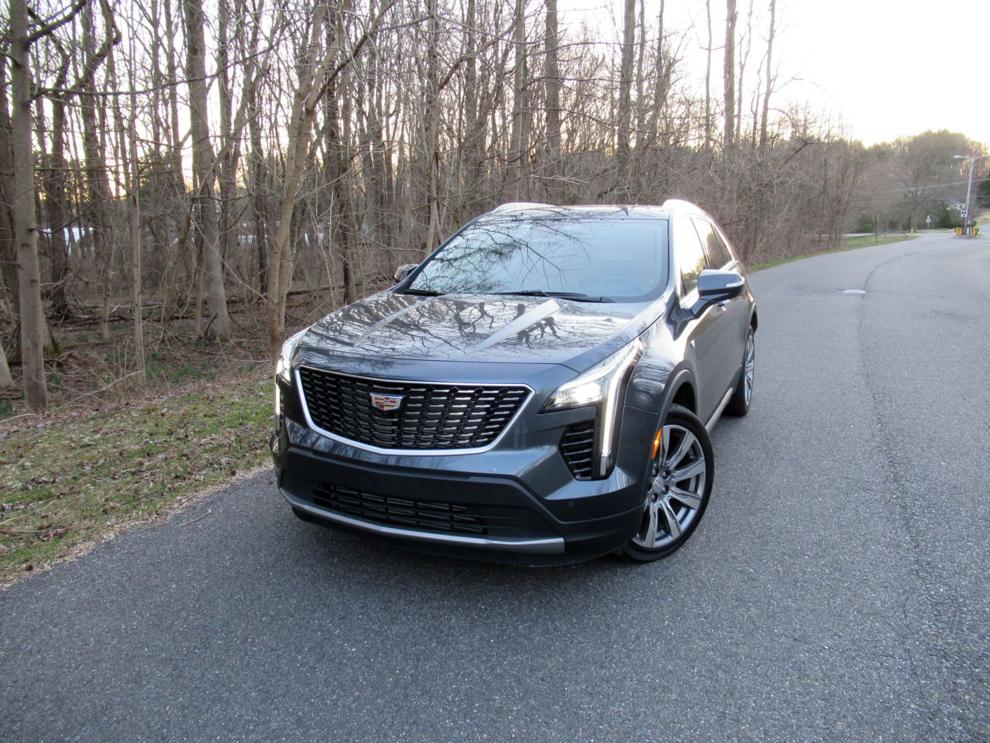 We're talking about the all-new 2019 Cadillac XT4 crossover, which is Detroit's hottest challenge to such excellent compact and subcompact models as the Acura RDX, BMW X1 and Volvo XC40. The XT4 bakes the brand's signature styling cues — which include vertical headlights and taillights that allude to Cadillac's tail-fin heritage — into an agreeably pugnacious little body and throws in an enjoyable driving experience. Its prices start at $35,790.
Despite Cadillac's historically staid image, the brand's most recent sedans have been delightfully agile performance machines, whose sporty rear-wheel-drive platforms deliver an industry-leading balance of a comfortable ride with exquisite handling.
The same philosophy was absent from Cadillac's SUV lineup, though. The full-size Escalade and the midsize XT5 crossover are less about dominant engineering than about high-end styling and quiet comfort, and both were derived from less expensive General Motors vehicles.
The new XT4 is a balance between the two types of Cadillacs. While it also shares its front-wheel-drive-based platform with cheaper GM models, its compact size and tautly tuned suspension keep it relatively lively to drive. Like a Volvo XC40, it is composed and agile without quite urging you around fast corners. Even with the tested car's huge 20-inch wheels, the ride remains smooth — an impressive feat —  as big wheels often lead to harsh impacts over bumps.
The XT4 uses a 2.0-liter turbocharged four-cylinder producing 237 horsepower. It's peppy and respectably quiet, and it delivers class-competitive EPA fuel economy ratings: 26 mpg in mixed driving with front-wheel-drive and 24 mpg with the optional all-wheel-drive system, using premium fuel.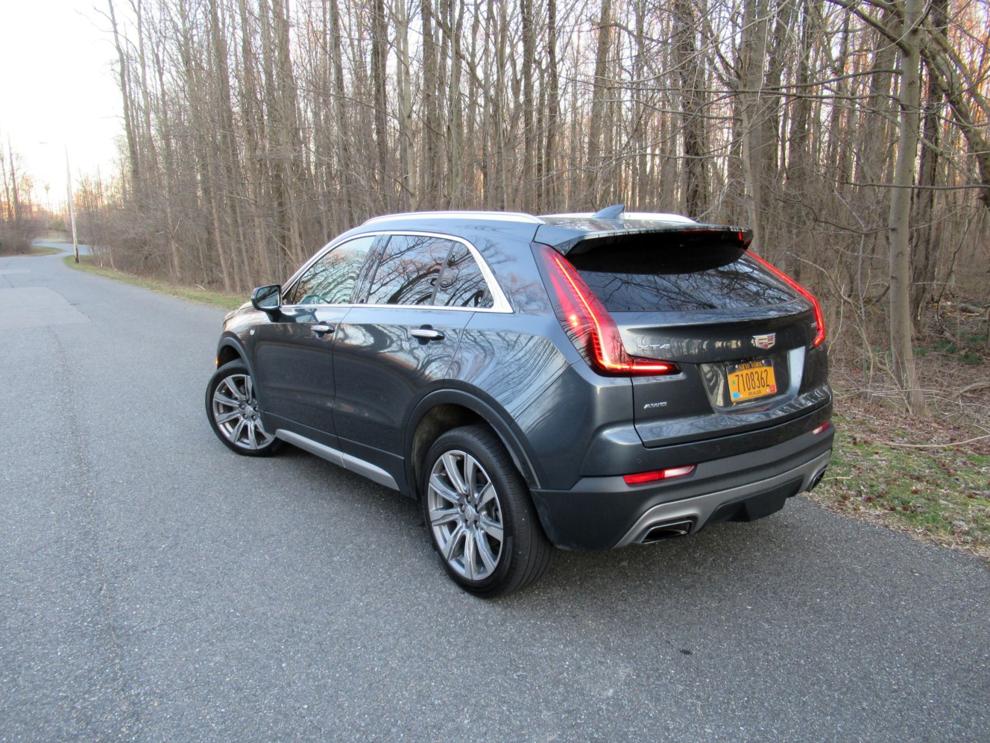 Inside, the XT4 has comfortable front seating. You sit higher than in a Mercedes-Benz GLA, providing more of an SUV feel than a mere tallish hatchback. Rear visibility isn't great, but the optional surround view parking camera system is quite helpful in close quarters; it uses a network of cameras on the front, rear and sides of the XT4 to stitch together an overhead view of the vehicle, nearby obstacles and pavement markings. And when you're on the road, the rearview mirror can also turn into a camera display that eliminates blind spots.
Rear seat and cargo volume are class-competitive for the compact premium crossover segment, though the XT4 gives up a lot of space compared to similarly sized mainstream models, which is the cost of flashier style. You get 22 cubic feet of cargo space behind the rear seat and 49 cubic feet with the rear seat folded. The rear seat itself has a comfortable cushion, but there's limited knee space for adults if the front seats are back very far.
The XT4's dashboard design is spare and elegant. As in many recent premium models, its audio controls are next to the shifter between the front seats, cleaning up the dashboard. Buttons and knobs feel appropriately upscale, and unlike some recent Cadillac models (and also some current competitors), the infotainment system is both user-friendly and has a lightning-fast response time.
There are some nits to pick, though. The lower areas of the XT4's dashboard, door panel and center console use hard, rough plastic that doesn't befit a luxury car. And some valuable safety features, such as emergency automatic braking, are available only if you select a host of other expensive options. If you want that feature, the XT4's minimum price jumps from $35,790 to $43,260.
Moreover, because the XT4 competes in a blossoming segment of the market, it faces some tough competitors. The BMW X1 and Acura RDX are relatively spacious, affordable and fun to drive. The Volvo XC40 has a gorgeous interior and a huge infotainment screen. The Lexus NX isn't as fancy or smooth-riding but boasts lots of standard safety features. The aging but frequently discounted Lincoln MKC offers quiet luxury at excellent prices. And even mainstream brand models like the Mazda CX-5, Volkswagen Tiguan and General Motors' own Chevrolet Equinox and GMC Terrain offer an increasingly premium feel along with more space than the XT4.
Even in the face of this competition, the XT4 doesn't falter. It doesn't dominate in its class, but nor does it embarrass itself.
If you're interested in a premium compact crossover, the pleasant-driving, user-friendly, fuel-efficient XT4 is one of many worthy options to consider. Also check out the models that offer more interior space for the money, some richer interior detailing and more standard safety equipment.
Visit tinyurl.com/xt4-sentinel to see more photos of the tested 2019 Cadillac XT4.
Brady Holt is a member of the Washington Automotive Press Association.