[View and purchases photos from the regional finals in our photo gallery here!]
CLARKSBURG – Senior wrestlers Jevon Coche and Austin Smith of Clarksburg High School entered the season as stalwarts at 220 and 285 pounds, the former having won 28 matches and been fourth at the county and regional tournaments as a junior, and the latter, fifth at counties.
But a week after finishing fifth and second in the county tournament, Coche and Smith won their first Class 4A/3A West Regional titles on Feb. 23, doing so in their own gymnasium.
"With Austin being the no. 1 seed, I thought he had a pretty good chance," said Coyotes' coach Rob Pinsky. "But Jevon beat a couple of big, strong established wrestlers, which kind of surprised us. With us being the host school, winning the last two championships was really special."
They were not the only successful competitors for Clarksburg as juniors Johnny Pisano (106) and Kyle Smith (145) and sophomore Alex Gonzalez (120) were within the top four of their weight classes, qualifying for Class 4A/3A state tournament at The Showplace Arena in Upper Marlboro.
Smith pinned all three opponents, in 41 seconds, 1:44, and, finally, 2:59, in his title bout against Linganore's Scott Hummel.
"I pinned everybody with a power half-nelson, and I've only won one other tournament before this year. All of them were really tough for me, but I'm super-excited to have done what I was able to do," said Smith.
"Seeing us place a record four guys in the finals was super motivating, and then, to see Jevon win his title before me just pushed me to try my hardest to be on the board with him. It feels amazing to actually win a regional title in our home gym and to have my name on the wall as a champion forever," he added.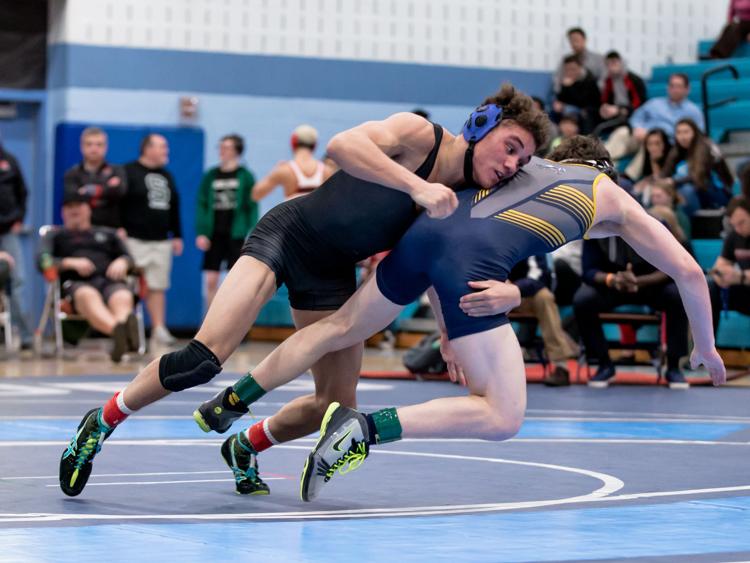 Meanwhile, Coche trailed, 4-1, early during his 11-8 championship victory over Zaki (26-2), a repeat regional finalist who defeated him, 9-5, in the previous weekend's county consolation semifinals. Coche reached the finals following a pair of overtime decisions, 8-6, and, 5-3.
"I was trailing most of the way against Zaki," said Coche. "My coaches have been telling for the longest time that I could compete and be really good, so [it] is still surreal to me."
Three Northwest wrestlers will be heading to state with county champion Siavash Sarvestani (126) leading the pack after a first place finish, followed by junior Yoann Olympio (170) and senior Jack Thomas (182) each winning third. Magruder senior county runner-up Wafeeq Iqbal (120) will be joined at states by teammate and fourth-place finisher junior Caleb Taylor (285).
A week after winning his county title over Damascus' Class 2A/1A state runner-up, Michael Emerick, whom he defeated for the second time this season, Sarvestani (39-2) overcame an early 2-0 deficit for a 4-2 overtime victory against Class 4A/3A state runner-up Tyler Cook of North Hagerstown.
The triumph over Cook (38-3) avenged a 2-0 loss in last year's regional finals for Sarvestani, whose 43-6 mark of a year ago included being a county and regional runner-up and fifth at states.
"First period, Cook took a shot and we got into a scramble position where he got his points. Second period, he chose top because last year he beat me because he rode me out. In the third period, I chose neutral, took him down with a double and was able to ride him out into overtime," said Sarvestani.
"The key to the match was pushing the pace to get him tired, because I knew I would have the energy because of how hard I've been working. He was really tired, so in overtime, I was able to take him down with a single, covering his ankle to get the two."
Iqbal improved on the previous weekend's runner-up finish at counties, using a pin and a semifinal 4-2 decision over Aidan Flint of Linganore before handling Gonzalez, 8-4, for the title.
"I went into the finals with a confident mindset," said Iqbal, who won 35 matches and finished third at counties and regions at 113 last year. "I beat him, 6-3, counties, but now I'm focused on states and out-performing my ranking."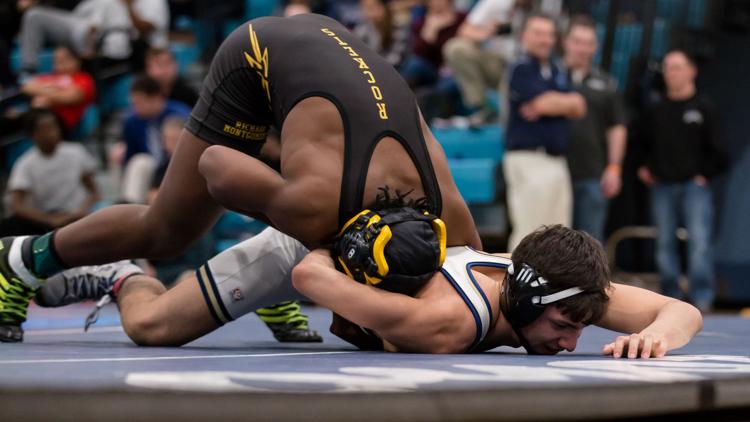 For the Cougars, junior Ryan Jones (195) finished in first place, county champion senior Jose Echeona (138) and county runner-up junior Marquez Cooper (182) were second and junior Rico Cornejo (126), fourth.
A week after finishing third at counties, Jones gutted out victories in his quarterfinal and semifinal botus, 3-1, and, 5-1, before decking Chase Schultz of Linganore in 1:42 of their championship match.
"We kept tying up a lot, so I [Schultz] thought I was going to tie up with him, but as he reached in for the tie, that left his how lower body open," said Jones, who won 28 matches last year when he was fifth at counties before finishing fourth at both regions and states.
"So I faked him, dropped down and hit a hard, blast-double. He was actually stronger than I thought he was gonna be, so I was just gonna ride him out, but as he tried to turn to his stomach, I just dug a half in and drove it all the way across and was able to stick him."
Wootton sophomore county champion Eric Liau (106) won a regional crown, but his county title-winning twin, Jason (113), was a regional runner-up for the second straight year after placing third at counties as a freshman. Richard Montgomery crowned sophomore Nicholas McCarthy (152) a week after having placed third at counties.
Eric Liau (38-0) finished Pisano in 26 seconds, having decked his quarterfinal final opponents in 1:15 and 2:50. But Jason (35-2) dropped a 5-2 decision to Thomas Monn of North Hagerstown.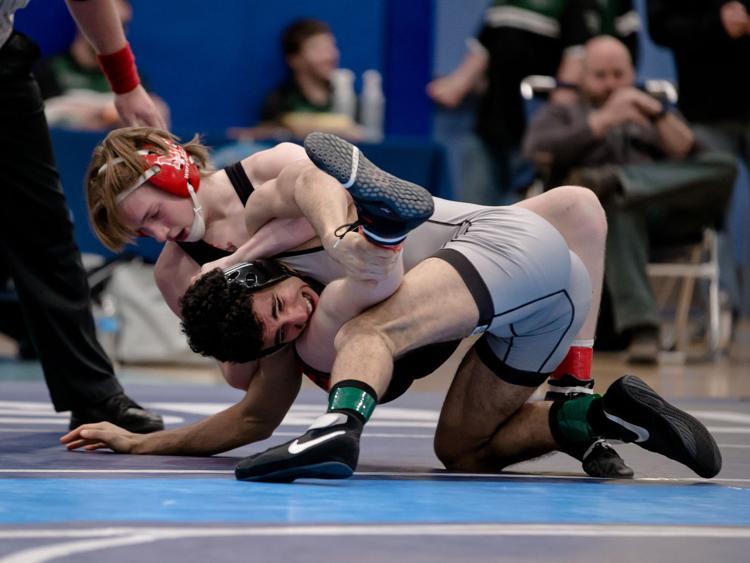 Motivated after watching older sibling, Eli, fall, 10-7, to defending champion Earl Blake (42-0), Drew Guttentag (38-4) planted South Hagerstown's Reese Jenkins in 66 seconds of their title bout.
"I pinned him with a cross face cradle, and it worked out," said Drew of Eli (41-4), who earned county and regional titles as a ninth-grader and placed third at states as a freshman and junior. "Definitely watching Eli got me fired up, showing that he could compete on that level. For me, I was coming off of a turf toe injury, but I was able to tape it up and manage through the tournament."
McCarthy used a first-period pin for a 12-7 semifinal victory over third-place regional finisher Thomas Chenoweth of Manchester Valley and a 3-2 title bout win over county runner-up Martinez.
"I feel amazing. I lost a lot of sleep just being awake all night thinking about it," said McCarthy, "I had lost to Martinez pretty badly last year to Jeo, like, 12-6, or something like that. So, this feels pretty good right now."
A county runner-up the previous weekend, Cooper lost only 1-0 to Class 4A?3A state runner-up Michael Bromley (41-2) of Linganore, the only point being a strategy-based,  third-period escape yielded by Cooper in an effort to secure the decisive takedown.
Finishing third were freshman Jaden Selby (132) and senior Ryan Kaplow (220), both from Churchill. Wheaton senior Jacob Bernstein (138), a state runner-up last season; and  junior Yoseph Yilma (126) also finished third in their respective weight classes.
Whitman senior Yussef Zaki (220) and freshman Charlie Imperial (152) were second and fourth respectively while Gaithersburg juniors Edwin Galo (285) and Jaedyn Harris (170) ended in third and fourth as well. Freshman Romero Tsai (106) was third and Kennedy sophomore Griffin Gonzalez (106) finished fourth in representing Watkins Mill.