WALDORF – Springbrook High senior Sahid Antar's double-leg takedown 15 seconds into overtime secured a dramatic 5-3 decision over 160-pound senior rival Trent Puccinelli of South River, clinching a 36-18 victory for the Class 4A dual-meet state championship at North Point High on Feb. 9.
In Puccinelli, Antar defeated a regional runner-up and fifth-place state finisher, giving his Blue Devils (25-1) an insurmountable lead of 30-18 with one bout remaining. In his junior season, he finished with a 37-10 record at 160 pounds and finished in third at counties, second at regions and fifth at states.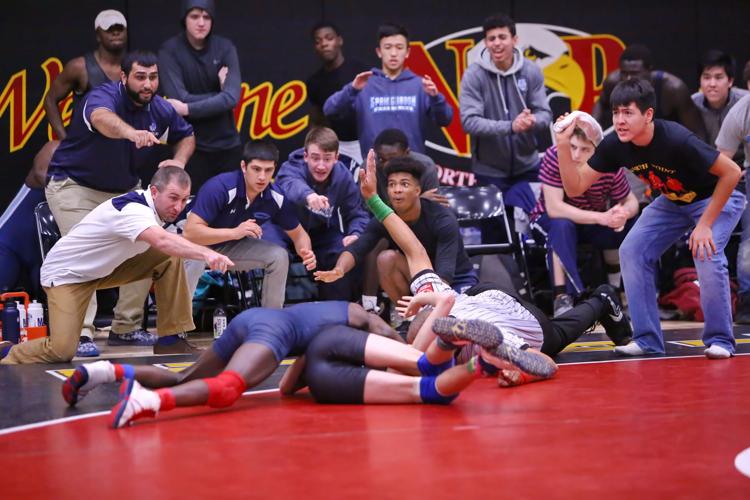 "When I took him down, I was celebrating; everyone was hugging me, and I thought, 'This will always be a great moment to remember,'" said Antar. "I felt a little bit of pressure, because this was the first time I've wrestled in the final match of a dual meet for the team, but I told myself to stay motivated and I was able to pull it off."
A second-period pin by junior Richard Nguyen (170) accounted for the winning margin, representing the 11th straight win for the Blue Devils since Jan. 12, when they fell, 39-24, at 16-time county champion Damascus High – an improvement over last year's 67-0 shutout loss to the Swarmin' Hornets.
"I realized we had already clinched the title, but it was still a little stressful," said Nguyen, a third-year wrestler whose 18-0 record with 16 pins comprises going 7-0 with six falls on varsity, and 11-0 with 10 on junior varsity.
Also pinning for the Blue Devils was freshman Grayson Wendel (113), with a technical fall from senior Sayfore Sieh (132); major decisions from the Jean siblings, junior Pierre (106) and senior Dassaev (138); and decisions from juniors Chinua Sabater (126) and Anthony Gomez (182) and senior Jean Mehul (152).
"Moving up in weight against the bigger guy was tough, and my coaches told me to just relax, not feel pressure, to go out and wrestle hard. But in the first period, I was down, 2-0," said Mehul, who bumped up from 145 pounds for a 5-3 decision over Riley Corkran of the Seahawks (15-2).
Coach Rob Whittles said his Blue Devils had watched, on Feb. 9, as Damascus won its seventh straight state duals crown, overcoming Glenelg High of Howard County, 45-16, in the Class 2A state finals.
"We didn't win that match against Damascus, but our kids got pumped up watching them blow out Glenelg in the finals, and we felt good about how well we wrestled against them," said Whittles, who works alongside Damascus coach John Furgeson at Springbrook as a physical education instructor.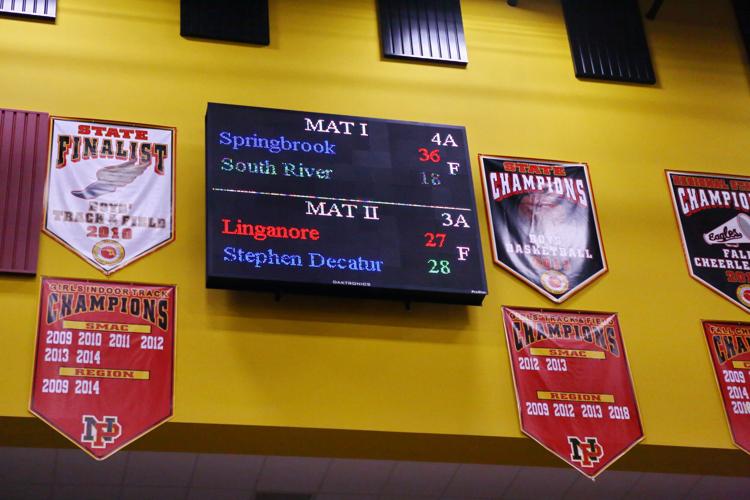 "We share the same office, and my assistant, Rob Wendel, is there,too, so there's a lot of wrestling talk. We're really good friends, but it's been bittersweet with them beating us and winning state championships," Whittles added. "Losing to them this year helped us to prepare for the rest of the season. They've set the bar, we've chased them, and we've worked hard to get to this level. It's been a dream come true."
Antar is among seven returning starters from last year's 19-5 squad, which was runner-up in the regional duals to eventual state champion Urbana of Frederick County. Sieh was fifth at counties and third in the region at 120; Pierre Jean, third at regions at 106;  and Nya, third at counties.
Of the Blue Devils, only two wrestlers — Kilby and Wendel — had competed before high school. Mehul, Antar and Nya, three of four regular senior starters, "all began the sport as freshmen," said Whittles, with Nya missing his entire sophomore season due to an injury.
He lost 4-2 to the Blue Devils' defending state champion Karon Lewis, demonstrating his continuing improvement. He started off leading 1-0 in an eventual 5-3 loss to Damascus' s Elijah Baisden, a returning county and regional champion who was state runner-up last season. It was Nya's third career loss to Baisden, who will drop to 220 for the postseason tournaments, making Nya a favorite to win counties.
"Aimrick came off the match and apologized, thinking he had let the team down because he wanted to beat [Lewis'] so badly," said Whittles. "But it was a pretty evenly matched battle, and Aimrick has time to get even better for the postseason and the counties, regions and states."
Meanwhile, the Blue Devils are an ethnic blend of athletes representing Cameroon, the Dominican Republic, Gambia, Guyana, Haiti, Lebanon, Liberia, the Philippines, Sierra Leone and Vietnam, among others. Pierre and Dassaeve did not learn English . Whittles said. However, the Springbrook leader was prepared to help them excel.
"It's cool that I've gotten to learn about where they're from, making them a part of something, where they've worked together with others for a common goal, hopefully learning life lessons along the way," Whittles said. "You don't always know how effective you've been, but this is a special group, and it's been really cool to be around it all."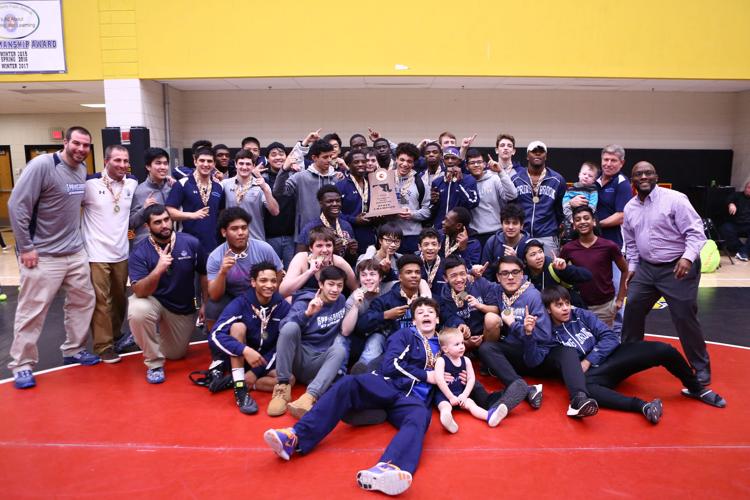 The Blue Devils reached the Feb. 9 event by winning Class 4A North Regional Duals on Feb. 6 at Catonsville High in Baltimore County, handling Sherwood High, 44-27, and Blair High, 43-27.They then claimed the Class 4A West Region champion Bethesda-Chevy Chase High, 31-28, in semifinal round on Feb. 9, a repeat of their earlier 41-25 victory over the Barons on Jan. 18.
Nya and Blue Devils' junior Isaiah Lindsey (195) each won by fall against the B-CC Barons, with a major decision from Gomez, and decisions by sophomore Matt Kilby (113) and junior Matt Bauer (220) as well as Sabater, Mehul and Antar. A junior varsity county champion last season, Gomez competed and was winner of a 7-2 decision against the Seahawks.despite having an ailing right shoulder.
"I'm not always in the lineup, but I practice like I'm going to be in the starting lineup for a big championship match every day," said Chinua, who often serves as the 126-pound backup to Sieh. "… I'm always ready to go, and that's all thanks to Coach Whittles telling me to maintain that type of a mindset."
The state duals crown is part of what has been a banner year for the Blue Devils, who hosted and won their 15-team Grapple at the Brook Tournament on Jan. 19 for the second straight time in the event's 21-year history. Including the Dec. 7-8 Aberdeen High Duals in Harford County, and the Dec. 21-22 Spartan Slam at Broad Run High in Ashburn, Virginia, the Blue Devils have gone 3-0 in tournaments. They will look to continue the streak at the county tournament at Gaithersburg.
"We got through Sherwood and Blair in our own region, and B-CC's team was very tough. Then you have Churchill and Whitman, which speaks so well about how our county teams are doing that our tournament is going to be brutal," said Whittles.