COLLEGE PARK – The last time the Penn State men's lacrosse team beat Maryland, a loaf of bread cost 12 cents and a gallon of gas cost 30 cents. The year was 1920, and lacrosse wouldn't become a varsity sport at Maryland until 1924.
Maryland (8-2) doesn't acknowledge that loss in 1920 and the one before that in 1916. When the present-day Terps took the field to face Penn State on March 31, it was as a program that boasted a 36-0 streak against the Nittany Lions, a streak that had lasted nearly 100 years.
Comments about the streak were a constant refrain in Penn State Head Coach Jeff Tambroni's ear every time his team came to play in College Park.
After Sunday's game, though, Tambroni won't be hearing much about Maryland's undefeated history anymore. The Nittany Lions (8-1) poured on eight first period goals, overcame a 28-minute scoreless streak and held off a six-point Maryland comeback to beat the Terps, 13-10.
With two of the past three games against the Terps being decided by one point and one of those matchups going to overtime, the game plan for Penn State was simple.
"We came in with a game plan of just playing together, and we got back to the fundamentals like coach was saying," said Penn State senior defender Chris Sabia. "We just played close-knit, tight and hoped our plan was going to work out."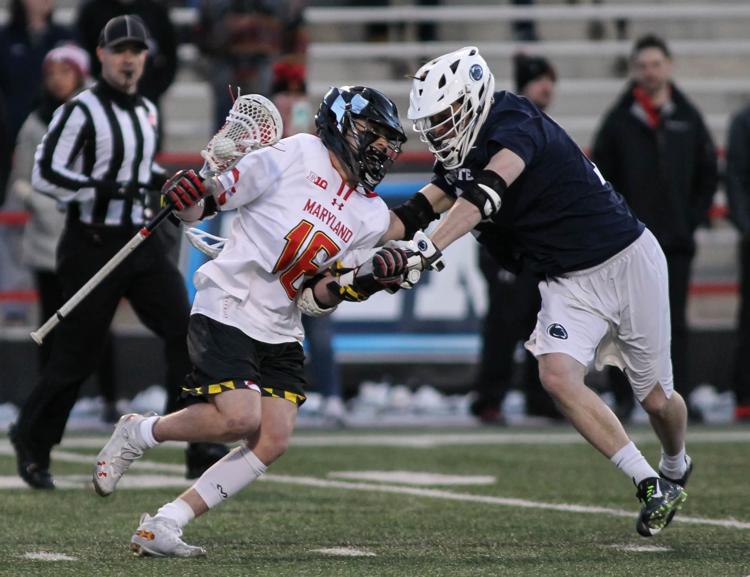 Part of Penn State's motivation was the return of junior attacker Grant Ament, one of the scoring leaders on the nation's top-ranked offense. Ament had missed Penn State's previous game and had been labeled as "questionable" with an undisclosed lower-body injury before playing against Maryland.
Even though Ament didn't score a single goal against the Terps (8-2), Penn State still jumped out to an 8-1 lead after the first quarter.
It looked as though it was going to be a long night for the Terps until attackers Jared Bernhardt and Louis Dubick scored in quick succession at the end of the second period. The Maryland defenders shut down the prolific Nittany Lions offense for all of the second quarter and most of the third and soon the Terps started to creep up on Penn State's lead.
"You can feel sorry for yourself and implode at 8-1, and I thought our guys kept grinding and grinding," said Maryland Head Coach John Tillman. "At 8-3, it felt like we could play so much better. As long as we could get the ball, we felt like if we executed at a high level and just got our tempo going, we could get some opportunities."
Those opportunities arrived during Penn State's offensive lull and the Terps took full advantage. Sophomore midfielder Roman Puglise registered a career-high two goals in the third period; one of those goals resulted from a Penn State mistake. Puglise seized the ball and hightailed it to the net to fire in his fourth goal of the year, unassisted.
"It was open and I looked to pass it to the left, and they didn't slide, so if you give me the green light to go to the goal, I'm going to take it ten times out of ten," said Puglise. "It's my job. I'm just trying to do it to the best of my ability."
Two minutes later, Bernhardt raced from behind the net to earn his second score of the night and then Puglise dropped in his second goal.
The Nittany Lions had just watched their 8-1 lead whittle down to 8-7. Maryland's comeback was almost complete.
"I trust our guys and I have full confidence in what we're doing offensively," said Tillman. "You know (Penn State) is going to make a little bit of a push and they just made some plays."
Maryland owned the momentum until Penn State sophomore attacker Cole Willard snapped his team's 28-minute scoring drought with an unassisted goal. After that, the Nittany Lions scored two more times in as many minutes.
Despite the fact that Penn State was pulling away again and the infamous 36-0 streak was in grave danger, the Terps didn't give up. Bernhardt earned a third goal to complete his hat trick, while sophomores Logan Wisnauskas and Anthony DeMaio got on the board with one goal apiece.
In the end though, for Tillman, it wasn't just about his team's second loss of the season.
"You never like to lose, but all we've really said with this group is just keep learning and growing," said Tillman. "We've got a lot of new parts out there and a lot of guys in different roles. Yeah, you want to win these games, but all the while, win or lose, look at what we could have done better and keep learning and growing."
The Terps will next host conference foe Michigan on April 6.