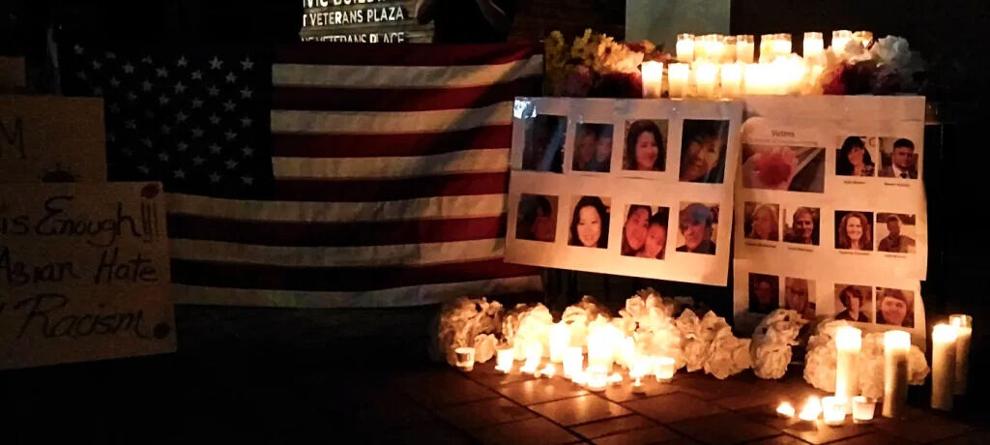 Photo by Lucy Wu of Winston Churchill High School
Xiaojie Tan was a spa owner who worked 12 hours a day, always full of smiles. Her dream was to travel the world and celebrate her 50th birthday with her daughter.
Suncha Kim was a grandmother who came to the U.S. in the 1980s, with a simple wish of growing old with her husband and watching her children and grandchildren live the life she had never got to live.
On March 16, 2021, both Tan and Kim's dreams ended abruptly in the mass shooting in Atlanta, Georgia, when a gunman opened fire at three parlors and killed eight people—six of whom were Asian American women.
The devastating shooting targeting Asian Americans is a notable new addition to the long list of anti-Asian crimes. Asian Americans have faced a deluge of discrimination, especially recently, from racial slurs and deriding gestures to sudden violence. Compared to previous anti-Asian attacks, the Atlanta mass shooting was more ruthless and deadly, manifesting a ferocious escalation of racism against Asian people.
The Atlanta shooting has provoked deep grief and outrage among Asian American communities nationwide. Rallies were held in Atlanta, New York City, Washington D.C. and dozens of other cities to call for an end to anti-Asian discrimination and violence. Across the nation, Asian Americans are standing up and speaking out, using their voice, loud and united, to express their anger and to impact social change.  
The alarming spike of anti-Asian crimes, especially the violent attack in Atlanta, has drawn attention from the government and the media. President Joe Biden and Vice President Kamala Harris delivered remarks to condemn the hate and discrimination against Asian Americans.  The New York Times covers a series of news reports and opinion articles about anti-Asian attacks. TIME magazine used the portrait of an Asian woman as the cover for an issue in March 2021 and highlighted the words "We Are Not Silent."
Many organizations, companies and institutes are also sending their support to the Asian community, from announcements of standing together with Asian Americans, to donations to AAPI (Asian American/Pacific Islander) organizations for combating anti-Asian hate, to creating resources to address anti-Asian violence.
As an Asian American, I was saddened and angered by the anti-Asian crimes. While it is encouraging to see our community raising its voice to fight against racism and to learn about the support we are getting from different sectors of society, we must admit the battle against anti-Asian racism is far from ending. The long history of stereotyping and exclusion of the Asian community, fueled by the more recent damaging phrases such as "Kong flu" and "Chinese virus," has led Asian Americans to a crisis point.
Even after the Atlanta shooting and waves of "Stop Asian Hate" movements, crimes targeting Asian Americans continue to soar. Asian Americans still fear for their safety—on the land of their own country.  For some, even the thought of taking a stroll outside raises fears of becoming a victim of a hate crime.
This, on one hand, shows anti-Asian discrimination has been rampant and deep-rooted. On the other hand, it tells us our battle against anti-Asian violence will be both fierce and long-lasting.  In the face of discrimination, silence is viewed as acceptance and submission. We must take all the opportunities to speak up, fight back, and protect our rights. 
When a 76-year-old Asian woman was attacked on a street in San Francisco, she fought back and donated all the money raised for her to Asian American communities to combat racism.
When Ohio politician Lee Wong was questioned about his patriotism because he didn't look American enough, he lifted his shirt and revealed the long scars around his chest, wounds from his service in the US military, hushing the unjustified doubts.
Anti-Asian crimes not only hurt Asian communities but also threaten the core values of social justice of our country. As Atlanta Mayor, Keisha Lance Bottoms, said, "[A] crime against any community is a crime against us all." It is crucial to show full support for the Asian American community and play our role in achieving justice for all Americans.
If each of us can do something, even just a little bit, to stop anti-Asian hate, the cumulative effect can be significant. Check on and support your Asian American friends. Share resources. Educate yourself and others. Learn about Asian American experiences and history through articles or documentaries. Amplify Asian American voices. Identify and call out anti-Asian racism. Just to name a few.  
On the day after Tan's death in the shooting, Tan's mother in China celebrated what would have been her birthday, unaware of her daughter's death. On the same day, in Atlanta, Tan's daughter was planning her funeral, broken-hearted.
Racism hurts. Period.
The fight against anti-Asian racism won't be easy. But it's a battle we have to win.