With 50% of high schoolers not scheduled to return to the classroom until the final week of April at the earliest, hundreds of parents and students from Together Again MCPS urged the Montgomery County Board of Education to dramatically accelerate its phasing-in plan.   MCPS is an outlier within the state and nationally. Similar-sized districts across the country have returned all students within one-to-three weeks.  Baltimore County, with 115,000 students, will have everyone back in the classroom by April 6. And PG County, the second largest district after Montgomery County, is phasing in all its students in one week.
The petition reads:
We urge you to phase our children in faster and not leave our fourth and fifth graders, middle schoolers and high schooler to wait unnecessarily.  While districts our size normally phase in all students in a one to three week period, MCPS is moving at a snail's pace with inappropriately long phasing-in plans that keep children, particularly teenagers who are most at risk for depression and self-harm, home for upwards of six more weeks.
Nearly 50% of MCPS high schoolers will not return until the final week in April. Doctors at Children's National Medical Center recently reported a surge in self-harm, depression, and anxiety among children.  In addition, data consistently shows that the months ahead are the cruelest months for suicides.  Now that vaccinations are no longer an issue for MCPS faculty, it is urgent that our county take swift action to accelerate its unnecessarily drawn-out and potentially reckless phasing-in plans.
There is still time to accelerate the phase in schedule.  Please return all students by April 6.  This plan will help give these middle and high school students a brighter outlook and a chance to positively impact their futures from both an academic and an emotional standpoint.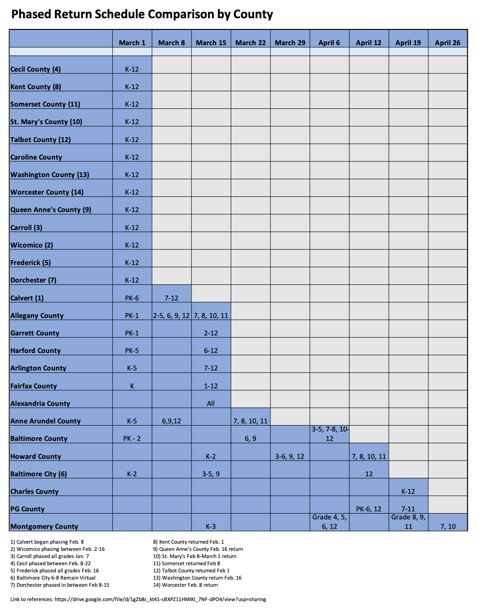 While most school systems in the region are returning students over a two-to-three-week-period, MCPS' phasing-in return plan is slated to take two months.  Most counties in Maryland will have their students back by March 15th. MCPS will not complete phasing until April 26.  
In addition, other districts, similarly-sized or larger than Maryland's largest county, returned all students in less than three weeks. Fairfax County, VA, with 187,000 students, is phasing in over two weeks. Jefferson County, KY, with 101,000 students is taking three weeks. Dekalb County Schools in Georgia, Charlotte-Mecklenburg Schools in North Carolina, and Shelby County schools in Tennessee, all with more than 100,000 students, took a week. 
Last week, Superintendent Smith proposed a tentative acceleration, however, this so-called "acceleration" is only bringing back the final two grades a mere one week earlier, leaving 50% of 7th graders and high schoolers in the B cohort not returning until April 26.
Montgomery County is one of only a small percent of counties that has remained virtual the entire year, and it is currently slated to be one of the last counties in the U.S. to get all of its students back into the classroom.
On January 21, Maryland Governor Larry Hogan and Superintendent of Schools Dr. Salmon called on all Maryland school districts to reopen by March 1.